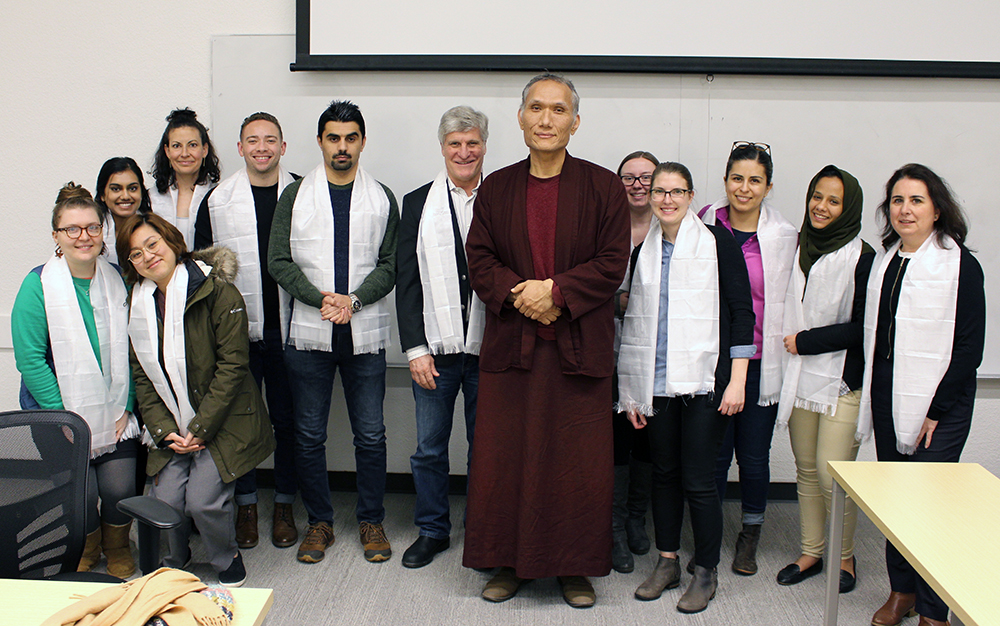 At the end of the class Rinpoche offered each PSU student a khata, or traditional white silk scarf—a Tibetan custom. The students are an internationally diverse group: from the US, Afghanistan, Yemen, Ecuador, Thailand, and Spain. One student's family is even from Bangalore, in south India, near where Rinpoche lived and studied for 25 years at Sera Je Monastic University.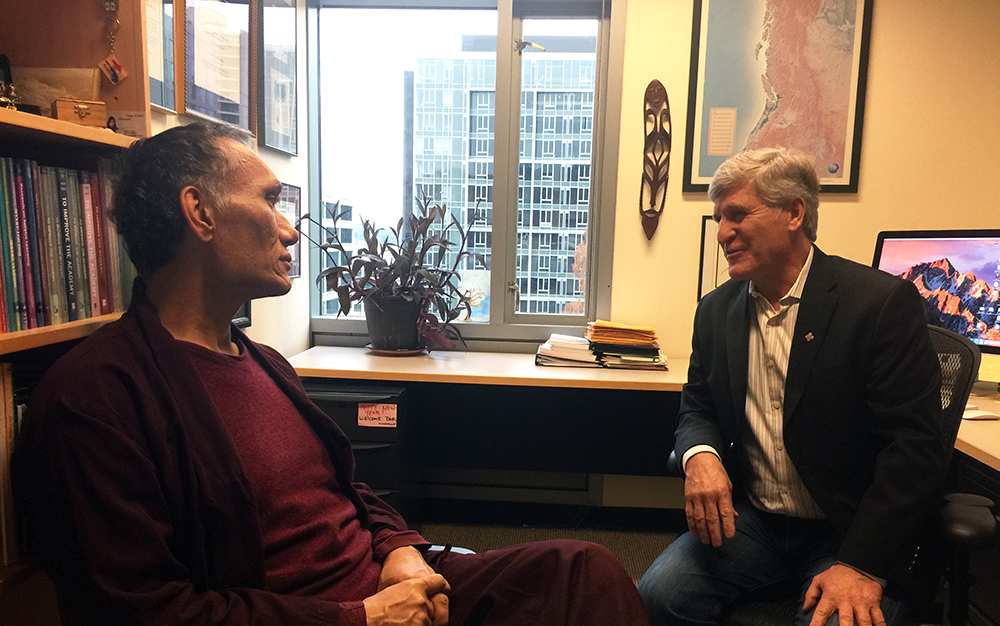 Yangsi Rinpoche and Professor Kevin Kecskes in Kevin's office at PSU's Urban Center in downtown Portland. "I wanted to provide my graduate students in public administration an opportunity to explore ethics, values, and morals from a distinctly Tibetan philosophical and practical perspective," Professor Kecskes said.
On Tuesday, February 4, 2020, Maitripa College President Yangsi Rinpoche guest-taught a class in the Department of Public Administration in the Mark O. Hatfield School of Government at Portland State University.
Together, Rinpoche and eleven graduate students in Dr. Kevin Kecskes' Administrative Ethics and Behavior course explored and discussed the idea of ethics as presented in His Holiness the Dalai Lama's Beyond Religion: Ethics for a Whole World.
"Learning to be non-reactive would be my fundamental proposition for you," Rinpoche said. "You are all going to be working on a team, working in groups, communicating over email, and so on. The word 'compassion' sounds religious, but 'non-reactive' actually means the same thing."
Rinpoche discussed the ethics of communication based on a human connection and a sense of concern for others, and posited that learning to practice non-reactive communication is actually a compassion practice for one's self.
Students shared personal examples of ways in which they had practiced "non-reactivity" and "reactivity" at work in challenging situations, and debated Rinpoche on whether a non-reactive approach is always the best approach in every situation.
Professor Kecskes is a long-time friend of FPMT and Maitripa College—he helped build the FPMT center in Greece in 1990! (The center in Greece has since closed).
"As an educator, we always want the best for our students," Kevin said. "So given that I have benefited greatly from the teachings of the Buddha over the years it only makes sense to put my students in direct connection with diverse knowledge sources—especially with someone as kind and wise as Rinpoche—that will challenge their assumptions and deepen their awareness."