If completing a degree program is not your end goal, consider taking a class as a Continuing Education (CE) Student. Maitripa College's transformative education is available through a simple online application and registration process. See all details below and apply now!
How To Enroll as a Continuing Education Student at Maitripa College
The path to enrolling as a CE student is simple. By filling out the short CE application, you are fast-tracked into the courses matching your interests and goals.
Admission Requirements
The minimum previous education required to apply for CE Status is the completion of a high-school diploma or equivalent. Petitions for exceptions may be made to the Director of Programs, Leigh, at [email protected]. Preferred Qualification: Baccalaureate degree (BA, BS, or International equivalent)
Application Process
First, complete the online application by clicking on the Apply Now button on the right to submit the simple online form. Once we receive and review your application, we will alert you of your acceptance. Please allow 5 business days for this process. Upon acceptance, you will receive a welcome email from our student database, Populi. Following the instructions for setting up your login and password, you can access your student account and register for classes.
Academic Advising
We suggest you make an appointment with the Continuing Education advisor, Tiffany, at [email protected] before registering for classes. Through an advising session, you can determine what courses will meet your educational goals and feel confident in your decision to attend Maitripa College.
Next Steps
Within a few days of enrolling in a class, you will receive:
1. An email from Maitripa College, which will provide you with a Maitripa College email address and technical and registration support throughout your enrollment.
2. An invoice from Populi that is due on the first day of class. Please refer to the Tuition and Fees page for more information on the tuition schedule, payment plans and services charges. If you have questions about your invoice or would like to setup a payment plan, please email Tony in accounting at [email protected].
If you have any questions about this process, please email Namdrol at [email protected].
Coursework and Expectations
As a Continuing Education student, you will be expected to complete the course requirements just as the degree program students. Each instructor and Teaching Assistant will provide you with a course syllabus that outlines the learning objectives, assignments, and grade distribution for the course. Your grades will be kept on record in the office. Transcripts will be provided upon request.
Apply to become a Continuing Education (CE) student with our simple online form (click on the button below). We will be in touch with further details on how to register for a particular course upon receiving your CE enrollment form.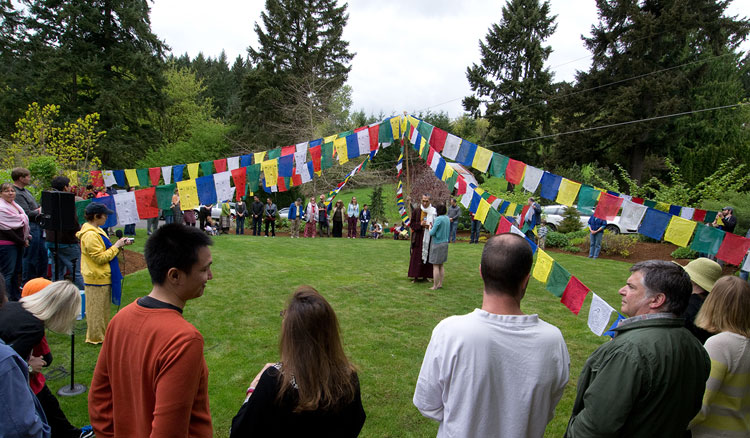 CE Student FAQs
Q. Can I audit, i.e. pay tuition, but not complete the assignments and forgo a grade?
To keep the standard of excellence and the classroom experience rich for all students, we require that everyone comes to class and is prepared to the best of their ability. Because our classes are small and personalized, your opinions, curiosities, challenges, and insights contribute to enrich the course. For these reasons, Maitripa College does not have an Audit enrollment option.
Q. Can I apply my credits to a degree if I decide that I want to become a full-time, degree program student?
Credits accrued from successfully completed courses may be applied toward degree requirements, should the student gain admission to a degree program in the future. Currently, up to 24 credits may be internally transferred from CE into a degree program for courses taken within the five years prior to an offer of admissions to a degree program.
Q. Are there any limitations to the courses I can take as a CE student?
Registration for courses prioritizes degree students before continuing education students; continuing education students may enroll when and if space permits

Faculty and Instructors may determine whether their classes are for degree students only or open to continuing education student enrollment

Faculty and Instructors may determine prerequisites for their courses on a semester-by-semester basis, and/or to grant continuing education students permission to enroll on a case-by-case basis
Q. Can I apply for a scholarship?
At this time, we are able to provide scholarships to full-time degree program students only. However, we do have a payment plan option. Check out the Financial Aid, Scholarships and Payment Plans page for more about our payment plans.