At Maitripa College, we offer all of our community and traditional Buddhist programming and events at no cost, by donation only, as well as two exceptional Master's degree programs at less than one-third the cost of comparable degree offerings. Maitripa College is committed to equitable support of all of our students in the form of scholarships and robust student services, as well as attention to and care for the needs of our faculty and staff. If this resonates with you, and you support the development of organizations that embody their values from the inside out, please consider giving to Maitripa College today.
To support the programs and activities of Maitripa College, please click on the button above to make a 1-time donation in any amount you wish. Please consider checking "make this recurring (monthly)" on the check-out screen – Your gift will automatically be billed monthly and may be cancelled at any time. Thank you!
Maitripa College is committed to responsible and ethical financial stewardship. Maitripa College is a non-profit organization under 501(c)(3) of the Internal Revenue Code. All contributions are tax-deductible within the extent of the law.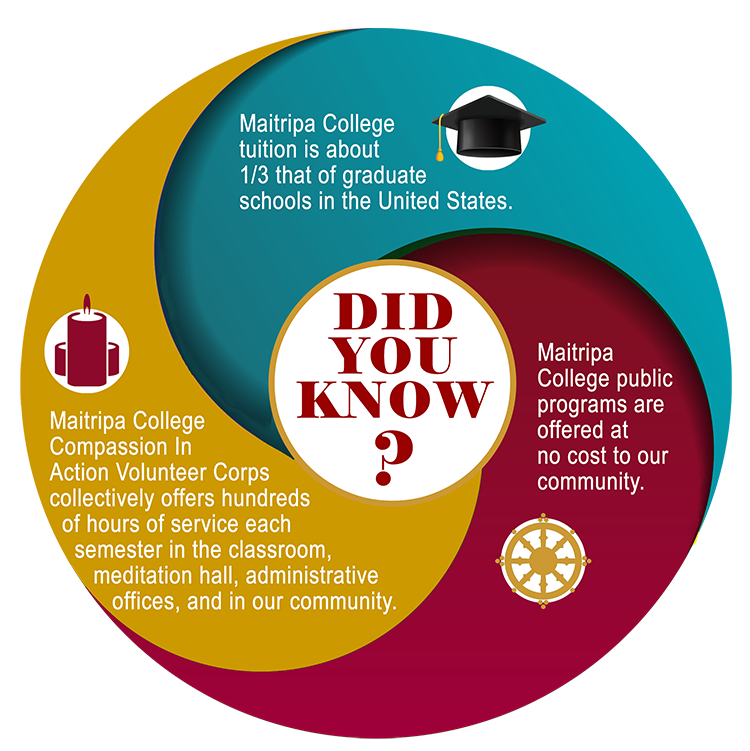 "All that is not given is lost. " – Indian proverb