The James A. Blumenthal Library at Maitripa College currently holds over 4,500 titles in print and multi-media materials, comprised chiefly of texts in English. Additional titles include videos of teachings and films, audio teachings and guided meditations, magazines and journals, as well as Tibetan, Sanskrit, and Chinese works. In order to fulfill Maitripa College's mission of offering a world-class enlightened education for the 21st century, a world-class research library is essential. Based on acquisition lists developed in consultation with internationally respected professors of Buddhist studies, we are now actively building our collections. We estimate that the College's library will ultimately house 20,000 volumes, becoming a lending and research facility that will meet the highest standards of electronic, archival, and print resources for the use of our students, faculty, and local community for many years to come.
Volunteer Opportunities
Please contact library@maitripa.org for current volunteer opportunities and upcoming projects in the library.
Tuesday 10-4
Wednesday 11-5
Friday 10-3
Currently enrolled students may access the library Monday-Friday, 9 am – 5 pm during the school semester. Call or email for access between semesters and during summer.
Community patrons and general public are encouraged to make an appointment with the librarian at library@maitripa.org
Support the James A. Blumenthal Library at Maitripa College
Please consider supporting new acquisitions for the Library by visiting one of our Wish Lists available through Alibris and Biblio (click on the buttons below). By purchasing books from one of these lists, you are helping to build a library at a Buddhist institute devoted to rigorous study, community service and meditative practice. Book donations are tax-deductible to the fullest extent of the law, and accompanied by immense gratitude!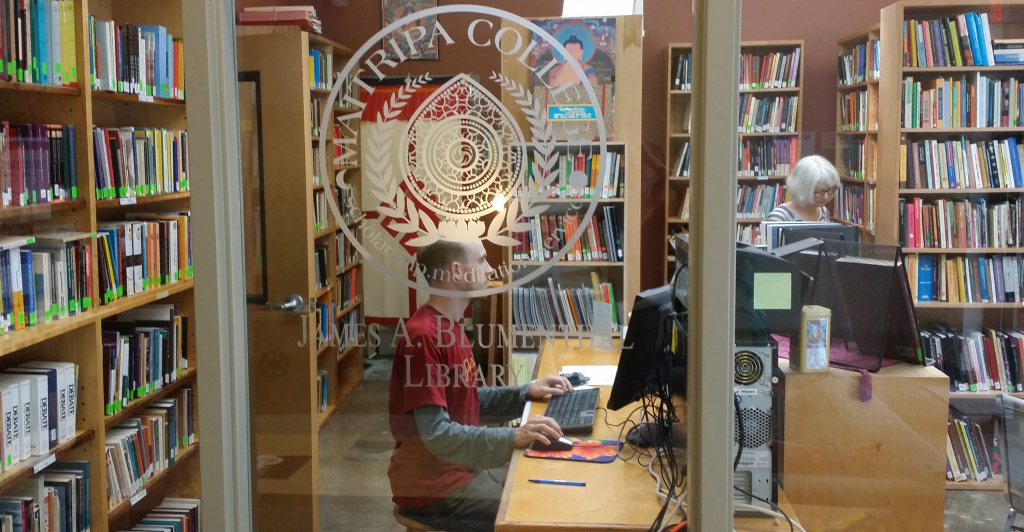 JSTOR
JSTOR is a digital library of academic journals, books, and primary sources. Subscription access via Maitripa is available to library visitors via JABL computer workstations and offsite access is available to students and faculty only.
If you have already established and activated your MyJSTOR account, you may go directly to www.jstor.org and select "Login" at the top of the page to enter JSTOR with your username and password. You may access JSTOR via this account from any location.
If you have not established and activated your MyJSTOR account, enter the Maitripa College password below and follow the instructions. Registered students and faculty please email library@maitripa.org to obtain the password.
Student Information
Searching JABL Catalog
Library Services
Faculty/Staff
Add Title to Course Reserves (email library@maitripa.org)
Scanning / Course Material Support (email library@maitripa.org)
Our Name and History
Please click here for photos and history of the library including the dedication ceremonies and puja in 2015.