Registration for Spring 2022 is now open. Please note that Spring 2022 Courses will be offered in-person for four weeks, and online for the remainder of the term, subject to local public health guidelines (see more on the Spring "Retreat Model Structure" here). All classes will be offered synchronously online weekly; links will be found in Populi.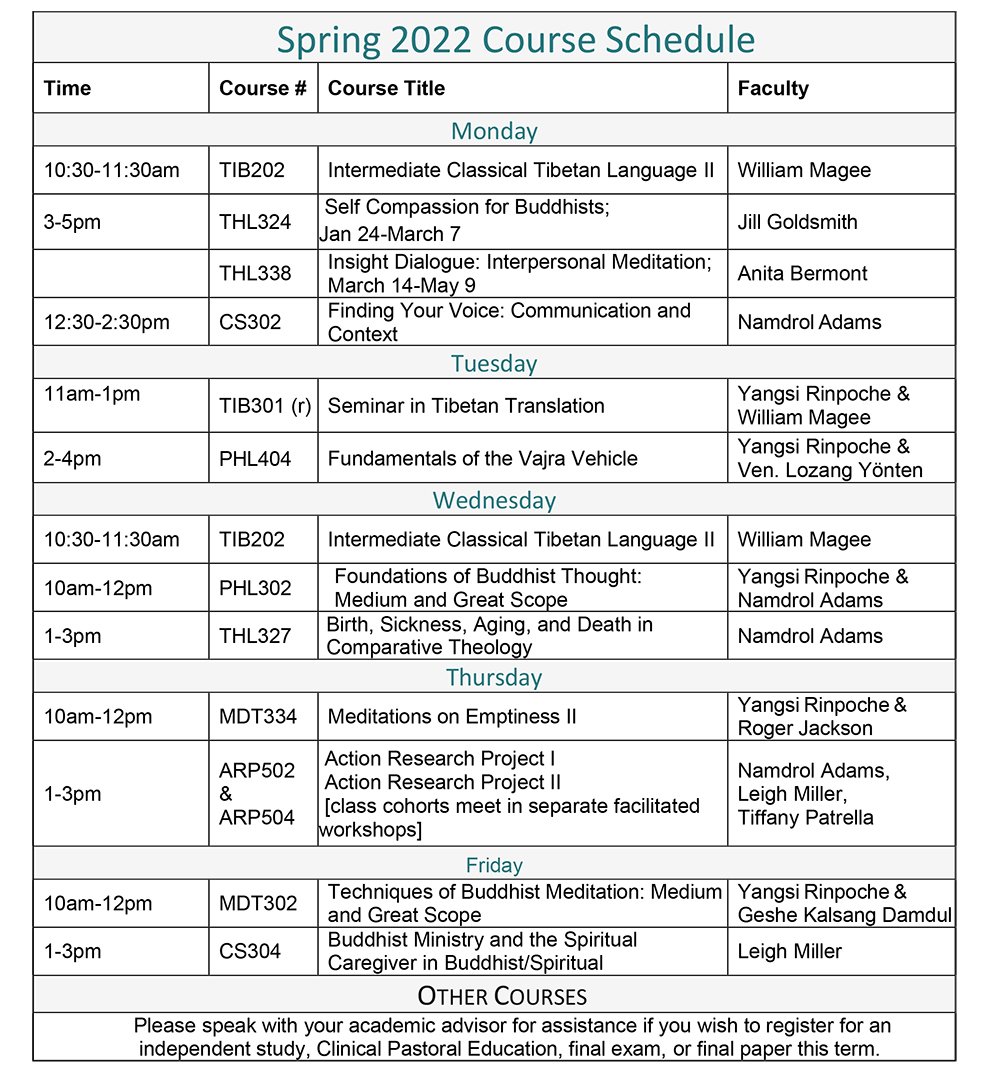 Spring 2022 Course Descriptions
ARP502 Action Research Project I
The Action Research Project is a form of integrative and collaborative research, reflection, and writing. Students become researchers by choosing a principle question and working with faculty mentors to design a research project. The action researcher is at the center of the inquiry, change, and learning that comes through the process. Action research impacts the researcher on personal and professional levels, and intends to positively impact others as well. ARP502 students will hone their research question, identify their positionality, build a literature review, understand research ethics standards and write consent forms or other ethics documents as needed, explore research methods and describe their selected tools and methodologies, and write a research proposal. The course is successfully completed upon the approval by a committee of their research project proposal. Research plans should be then implemented between the proposal approval and enrollment in ARP504, usually at least six months.
MA and MDiv students' final degree requirement, to be determined in consultation with their academic advisors, may be the completion of an MA exam, thesis, MDiv comprehensive paper, or the action research project, for students commencing their degree prior to August 2020. Those commencing after August 2020 are by default expected to complete an ARP. All degree students are strongly encouraged to consult with their advisor to plan for the best time to enroll in ARP502 (2nd or 4th term) or ARP504 (4th or 6th term). Students enrolled in Spring 2022 will work towards completion of their individual final degree requirements within a cohort and faculty supported structure.
ARP504 Action Research Project II
Building upon ARP502, students who have implemented their approved Action Research Project proposal and successfully gathered significant data enroll in ARP504 to complete their Actional Research Project. In this term, students will learn to analyze their data, organize their thinking for intended audiences, produce a written, formal paper of their findings, and present their research to the community.
CS302 Finding Your Voice: Communication and Context
This is the second course in the service pillar at Maitripa College, which builds on the foundation of the first term, exploring concepts and practicalities related to identifying and expressing yourself as a spiritual leader in modern society and establishing a unique and relevant "voice." We will explore traditional, historical, and contemporary "voices" of Spiritual Leadership, and mediums for expressing that voice, including online platforms, the Academy, spiritual communities, and others. This class includes a concurrent 15 hour service project.
CS304 Buddhist Ministry and the Spiritual Caregiver in Buddhist/Spiritual Communities
This course will explore methods of embodied spiritual leadership in support of Buddhist/spiritual communities, with a particular emphasis on cultivating the inner and outer qualities of skillful community ministry and spiritual care. When we model and embody commitment to following a spiritual path, our community and acquaintances may perceive us as religious leaders or "spiritual friends," and come to rely on us in formal and informal ways; it is, these days, incumbent that we prepare ourselves well to offer them the best care we can, through training ourselves in more than philosophy and meditation. Students will develop their self-awareness and their understanding of their impact on others, and they will come to see how issues such as equity, trauma, ethics and so forth inform the ways in which we share and represent the dharma. The course builds on spiritual care theories, skills, and service from CS303 with the practice of Spiritual Care Conversations, and the writing and delivery of a dharma talk or homily. This course will help strengthen students' understanding and practice of compassion for others, including discussion of contemporary application of skillful means, co-constructing spiritual practice environments, facilitating group practices, religious education and pedagogy, working in relational dynamics, and integrating these pieces into one's personal service.
MDT302: Techniques of Buddhist Meditation: The Medium & Great Scope
This course will continue with instruction in meditation based on the foundations established in MDT 301. The course will be taught in an interactive format, allowing students the opportunity to learn specific meditations as directed by the instructor, practice them, and discuss their experiences in class. The subject matter will parallel the topics of Buddhist philosophy as taught in as taught in PHL302. Part of this class will include regular meditation sessions out of class, the keeping of a sitting journal, and the opportunity for discussion on the effect of these practices on the individual's mind. If desired, the committed student will have the opportunity to work with the instructor to design a personal meditation practice.
MDT334: Meditations on Emptiness II
The heart of Buddhist practice is meditation on emptiness, a rigorous contemplative approach towards gaining deep insight into the nature of reality with the goal of attaining liberation for the benefit of oneself and others. In this class, we will explore some of the traditional approaches to meditation on emptiness from the Tibetan Buddhist tradition, both in terms of the instructions on the practices in some classic texts and by some realized authors (including Shantideva, Tsongkhapa, and the Buddha himself), and in terms of becoming familiar with the meditations themselves.
PHL302: Foundations and Ethics of Buddhist Thought: The Medium and Great Scope
This class surveys the foundational philosophical ideas of the Buddhist tradition as presented by the great pandits of India and commented upon by the Tibetan inheritors of the Indian Buddhist tradition. The course will make use of philosophical treatises (primary sources in translation), literature, and historical analysis to present the foundations of Buddhist philosophy. Readings may include selections from Vasubandhu's Abhidharmakosha, Dharmakirt's Pramanavarttika, the Abhisamayalamkara (attributed to Maitreya), Shantideva's Guide to the Bodhisattva's Way of Life, and "Seventy Topics" from the Ornament of Clear Realizations by Maitreya, as well as modern scholarly analysis of the same. There will be a particular focus on the readings as they relate to the medium and great scope of the Lamrim (Stages of the Path genre) as presented by the Tibetan scholar Je Tsongkhapa and others. Students will gain a strong foundation in Buddhist philosophy including key topics that relate to the medium and great scopes (ways of describing spiritual practitioners' stages of motivation and aims) such as: cause and effect, the potential for enlightenment, and the structure of existence according to the Buddhist world view. Students will also gain a strong understanding of the Buddhist philosophic underpinnings of critical concepts such as: loving kindness, great compassion, and abandoning the mind of self-cherishing, the mind of enlightenment, the six perfections, and an in-depth examination of the path of a bodhisattva.
PHL404 Fundamentals of the Vajra Vehicle
This course will provide students with an overview to the history, theory, and ethical practice of the tantras of the Secret Mantra Vehicle as described in the works of Tsong-kha-pa, founder of the Ge-lug-pa lineage, and His Holiness the Dalai Lama. The course will present a detailed description of the four classes of tantra, the differences between sutra and tantra, and a discussion of the scriptures and historical figures central to the history of the Vajra Vehicle in Indian and Tibetan Buddhism. The course may also explore the meaning of Fundamental Mind, identify the essential practices of emptiness and deity yogas, map the grounds and paths of Secret mantra, and consider the ramifications of tantric views and ethics in our own lives.
THL338 Insight Dialogue: Interpersonal Meditation
(1 credit, 8 weeks) Insight Dialogue is an interpersonal meditation practice that brings together meditative awareness, the wisdom teachings of the Buddha, and relationship. It is a contemporary practice with the same purposes and traditional roots as silent meditation: developing mindfulness, compassion and liberating insight, while investigating present moment experience. The six guidelines at the core of the practice help establish the meditative qualities of the mind and to sustain these qualities while participants reflect on topics that encourage a direct and intimate inquiry into the human experience. In this way, relational contact and meditative qualities of the mind help bring root wisdom teachings into lived experience, here and now. The foundational elements of Buddhist paths to liberation include morality, tranquility, and wisdom; in Insight Dialogue these support relationships of mutuality as instrumental to the spiritual path, particularly in cultivating loving-kindness, right speech, right action, concentration, and insight. The Buddha's teachings praising Spiritual Friendships and relational practice are also antidotes to overemphasis upon the individualistic forms of practice in dominant cultures of modernity and opportunity to awaken together. Although Insight Dialogue is grounded in the Buddha's early teachings (Pāli Canon) and the practice of Insight or Vipassanā meditation, people of all faiths and backgrounds are welcome and find benefit in the practice. This course will offer Buddhist texts and teachings from multiple traditions, including the Pali, Sanskrit, and Tibetan Buddhist sources, in guided, interpersonal dialogue-based meditation practices.
THL324 Self-Compassion for Buddhists
(1 credit, 8 weeks) Many Buddhists dedicate themselves to practicing kindness and compassion for others, and inadvertently leave themselves out. As His Holiness the Dalai Lama has said, "If your compassion does not include yourself, it is incomplete." In this class, we will learn to include ourselves in the circle of compassion – not above other sentient beings, but also not below.
This class is based on and draws heavily from the 8-week course in Mindful Self-Compassion (MSC) developed by Kristin Neff and Christopher Germer. In this class we will learn core principles and practices that enable students to respond to difficult moments in their lives with kindness, care and understanding. Self-Compassion can be learned by anyone and is a key ingredient in healthy self- Care. MSC has been studied for over two decades, and there is now a significant field of research into compassion and self-compassion which shows that these practices are strongly associated with emotional wellbeing, lessened anxiety, depression and stress, maintenance of healthy habits such as diet and exercise, and satisfying personal relationships.
THL327 Birth, Aging, Sickness, and Death in Comparative Theology and Religion
Guatama Buddha famously experienced the four sights in the form of encounters with the human experiences of aging, sickness, death, and a wandering renunciate. These encounters are said to have led directly to his realization of the dissatisfactory nature of conditioned existence and, ultimately, were part of his motivation to seek realization and enlightenment. In this course, the understanding of the four sights along with an analysis of "birth" offer a frame for comparison with non-Buddhist religious traditions. During the term, we will explore how human beings have approached these basic realities of human experience and their soteriological role in the lives of the faithful. We will explore ways that doctrines and living communities create meaning, ritual, celebration, and offer solace in various theistic and non-theistic religious traditions, including some pre-Christian, Abrahamic, Asian, and Native American traditions.
*This course is a course equivalency to THL330 and THL325; satisfying the MDiv degree requirement for 2 credit hours in world/comparative religions.
TIB202 Classical Tibetan Language Intermediate II
Students continue to deepen their knowledge of Tibetan grammar and syntax through reading and decoding basic verse and prose texts and commentaries on Buddhist philosophy and practice in their original language. This course also introduces basic translation theory. Whenever possible, students receive oral commentary of the texts they are working with as part of the class, and begin to learn how to translate formal logical statements so common in Tibetan philosophical exegesis. Pre-requisites apply
TIB301r: Seminar in Tibetan Translation
Students read and translate Tibetan texts and their commentaries in their original language. In this course we will learn reading and reciting Tibetan texts, developing pronunciation, and translating with an emphasis on communicating the meaning. Pre-requisites apply