Maitripa College Participates in Long Life Prayers and Offerings to His Holiness the Dalai Lama by FPMT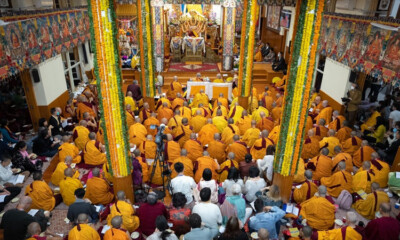 (May 24, 2023) Yangsi Rinpoche and Maitripa College participated in the FPMT's offering of a glorious Long Life ceremony for His Holiness the Dalai Lama at Thekchen Choling, the main temple in Dharamsala, India, on May 24, 2023. The ritual, with specifically arranged prayers and elaborate offerings, was designed and initiated by Khyabje Lama Zopa Rinpoche on behalf of the FPMT over many years, and had been scheduled for May, prior to Lama Zopa Rinpoche's passing away in April.
The FPMT Board, the Abbot of Kopan Monastery, and Yangsi Rinpoche, Founder and President of Maitripa College, made the offering and requests for His Holiness the Fourteenth Dalai Lama to live long and continuously teach the dharma for the benefit of all living beings.
Concurrently, in Portland, Oregon, USA, Maitripa College faculty, staff, and community members gathered to participate in the live stream, reciting the prayers and making offerings in the Jokhang meditation hall. We all rejoiced seeing Yangsi Rinpoche on the livestream, seated in the front row of esteemed lamas, and, during the procession presentation of offerings, having his nose playfully and affectionately pinched by His Holiness!
His Holiness spoke eloquently to the congregation, affirming that such prayers contribute to the positive conditions for His long life and thereby support his commitments, expressing
May I, moved by great compassion, clearly elucidate this treasury of excellent benefit and happiness for all.
However, he implored, it is up to us all to study and practice dharma, too, and to also pray for the swift reincarnation of Khyabje Lama Zopa Rinpoche. "It is also good to remind ourselves," He said, that according to scripture and reason, it is important to, "practice the teaching with enthusiasm." His Holiness encouraged those listening to keep their service to Dharma and sentient beings rooted in study and practice. Maitripa College is dedicated to following this advice from our highest spiritual advisor and the head of our lineage.
His Holiness reflected,
I am determined to work for the flourishing of the Buddha's teachings and welfare of all sentient beings, …So, if these prayers today are effective, everyone will benefit. Tibet and the neighboring lands of the Himalayan region have a long-standing connection to the Dalai Lamas. I am determined to work for the benefit of the people who live in these places, but in addition there are now scientists across the world who are interested in what the Buddha's teaching have to say about the workings of the mind and emotions. I would like to help them as much as I can too. For these purposes, supported by your prayers and dedication, I feel I may be able to live another twenty years or so. I'm keen to let people, especially those who have no religious allegiance or interest in spiritual affairs, know the importance of cultivating love and compassion and achieving peace of mind.
Lama Zopa Rinpoche had praised His Holiness as "incomparably kind," "a great treasure of infinite compassion," "completely liberated," and "sole source of all goodness and refuge," and composed requests to Him to "have a stable life until samsara ends" for "fortunate disciplines" to connect with His Holiness' holy body, speech, and mind.
His Holiness the Dalai Lama praised Lama Zopa Rinpoche at the ceremony, saying,
These long-life prayers are being offered today by the FPMT, an organization with many centers around the world that has for quite some time been led by the late Zopa Rinpoché. A very trustworthy person, Rinpoche has recently passed away and I pray that his reincarnation will be able to serve the Dharma and sentient beings in his next life. Zopa Rinpoche really did his best. He worked immensely hard for the teachings and to benefit sentient beings. I hope his reincarnation will also be a proper custodian of the Dharma and pray that that may be so. You should do the same.
---
For a complete report of this auspicious event, please visit the website of the Office of His Holiness the Dalai Lama, from which this story's quotations of His Holiness are excerpted and lightly edited here: https://www.dalailama.com/news/2023/offering-prayers-for-his-holiness-the-dalai-lamas-long-life
View photo gallery of this event here: https://www.dalailama.com/pictures/long-life-prayer-offered-by-fpmt