Alumni of the Maitripa College MDiv Degree Program are employed as CHAPLAINS at HOSPITALS and take LEADERSHIP ROLES in their local spiritual communities. Alumni of the MA Degree Program are being accepted into RELIGIOUS STUDIES PHD PROGRAMS or work as TRANSLATORS at Dharma Centers. In addition, many graduates of both programs continue to offer SERVICE to the FOUNDATION FOR THE PRESERVATION OF THE MAHAYANA TRADITION (FPMT) as employees, volunteers and teachers. Here are some of their stories, along with perspectives from students still in the programs answering questions put to them by Maitripa staff.
(November 2016). MA graduate JACOB LINDSLEY presented a paper at Mind & Life Institute's International Symposium of Contemplative Studies in San Diego this month. Jacob's paper, entitled "Mindfulness and the Transformation of the Self: Affirmation and Negation in Cognitive Behavioral Therapy and Tibetan Buddhism" focused on the emerging concept of "self" and its transformation through therapies such as Mindfulness Based Cognitive Therapy and ACT, contrasting it with a model of self used in the Madhyamaka tradition of Tibetan Buddhism.
(August 2016). Maitripa MDiv Alumnus CARL JENSEN completed his Clinical Pastoral Education (CPE) Training at Providence Hospital, and is now "Chaplain Carl"! He and his classmates were honored in a Service of Blessing and Farewell on August 17, 2016, at Providence Hospital in Portland.
(May 2016). 2016 Graduate DAVID LANGLER was offered a position as Program Manager at the Mind and Life Institute and begins service there this month.
(April 2016). 2015 Graduate KRISTEN MULLEN was offered a position and will begin service as an Associate Chaplain this Fall at Legacy Emmanuel Hospital in Portland.
"I've just completed my first CPE unit at UC Davis Medical Center, and started my second unit in February! People say that if you can survive this one year full time residency program at UC Davis Medical Center then you can get hired anywhere. It's very intense because it is a Level 1 Trauma Center. There are six residents from diverse religious traditions and from various countries, which makes it very rich and rewarding. Maitripa gave me a deep foundation in Buddhist principles and values, and the confidence to pursue my professional and spiritual paths."
When PAULA DOVHOLUK (MDiv 2013) got the phone call last summer inviting her to the CPE program at UC Davis Medical Center, she couldn't believe her ears. Not only were residency positions like this competitive, being personally invited to fill them was unheard of. Paula came to Maitripa College with a strong background in hospice care, mainly as a caregiver to many in Portland and Mt Shasta, CA. She enrolled in our Master of Divinity Program because she wanted to impact her current and future clients more deeply, by having spiritual resources and clinical knowledge to support their pressing needs during aging, dying, and death.
After completing a single unit of Clinical Pastoral Education (CPE) at the Veterans Administration Medical Center in White City, Oregon, Paula received a phone call from UC Davis Medical Center inviting her into their full-time CPE Residency program. Paula was thrilled: "Because of my training at Maitripa College, I have been able to gain the confidence to say 'Yes, I am a chaplain.' It has been a profound journey, and I don't know how I would have gotten here without the Buddhist training and community of the College. I am excited to connect with current students as a mentor and organize an alumni mentorship council to guide and help future graduates." Paula is bringing the training and education of Maitripa College into professional service as a hospital chaplain. In fact, 70% of our MDiv. graduates have already secured paid CPE internships or full-time positions in hospital chaplaincy. We congratulate Paula on her great success, and look forward to her voice in shaping the future of Maitripa College.
"One of the most valuable aspects of my education was all of the opportunities to lead rituals, guide meditations and teach publicly… I'm much more confident and don't hide as much. I don't know how I would have accomplished the same somewhere else."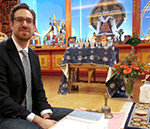 MICHAEL JOLLIFFE didn't come to Maitripa for any practical or career-oriented reasons. He had "a vague but undeniable spiritual longing." He felt trepidation about the way his life was going and wanted to find some way to be helpful and be happy. He wasn't sure how to accomplish this so he enrolled at Maitripa to grow up and find his heart. After graduation, Michael found work as the assistant editor for Mandala, the magazine of the Foundation for the Preservation of the Mahayana Tradition (FPMT). He also regularly volunteers, leading rituals and teaching Discovering Buddhism and Meditation classes at Maitripa College.
2016 UPDATE FROM MICHAEL: In addition to having worked at Mandala, the official magazine of the Foundation for the Preservation of the Mahayana Tradition (FPMT), for six years as Assistant Editor, I've continued to stay involved at Maitripa College by attending public events and by leading pujas, teaching introductory public program courses, and giving public talks in the greater Portland area. Currently, I'm in the process of applying to Portland State University's MS program in Marital, Couple, and Family Counseling and am excited at the possibility of taking the skills I've learned at Maitripa into a new career and into the wider world.
"A really huge positive aspect for me was the community. Having that support of like-minded individuals, who have the same goals…this 'Dharma family' has become one of the biggest gifts. I got a well-rounded education in Buddhism studying the three pillars of scholarship, meditation and service, and most importantly, I developed a stronger connection to my teacher Yangsi Rinpoche and his pure lineage…Maitripa has empowered me personally and professionally more than I could have possibly imagined."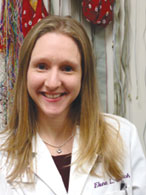 ELENA GOODRICH (MA 2013) met Yangsi Rinpoche at Deer Park Buddhist Center in Madison, Wisconsin. After completing a BA in Religious Studies at Grinnell College, she moved to Portland to begin taking classes at Maitripa. She obtained a BA in Psychology from Portland State University and then began working in a Cognitive Neuroscience Lab at Oregon Health and Science University. Elena eventually entered Maitripa's Master of Divinity degree program full-time and says this is when her personal spiritual practice really deepened. Elena graduated from Maitripa in 2013 and has continued working as a research assistant in a lab that studies the effects of meditation on the mind and body. She helps design, implement and publish research studies about teaching secular mindfulness meditation to various populations, including combat veterans with PTSD, chronically stressed older adults and adults with severe speech and physical impairments.
2016 UPDATE FROM ELENA: I continue to work in a cognitive neuroscience lab at Oregon Health & Science University that studies the effects of various forms of complementary and alternative medicine. This past year, I co-authored three peer-reviewed journal articles: "Event-related Potential Correlates of Mindfulness Meditation Competence" in Neuroscience, "Internet Mindfulness Meditation for Cognition and Mood in Older Adults: A Pilot Study" in Alternative Therapies in Health and Medicine, and "Mechanistic Pathways of Mindfulness Meditation in Combat Veterans with Posttraumatic Stress Disorder" in Journal of Clinical Psychology. Currently, I am co-authoring a paper on meditation with fellow alumnae Cheryl Wright, PhD, LAc, MA.
"Maitripa College was exactly what I needed at the time and the perfect place to learn more about the philosophy and practice of Buddhism."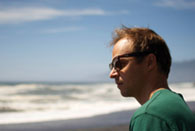 KARL SCHMID discovered an entryway back into academia at Maitripa College. He found that the way the school got students to think more deeply about topics through open and fresh discussions suited him. Instead of giving forced answers, instructors showed him how to think and process information on his own. In the fall of 2014, Karl began a PhD at Emory University's Graduate Division of Religion. He is studying Buddhist metaphysics and epistemology and aspires to be a professor of Buddhist Studies after graduation.
2016 UPDATE FROM KARL: I'm currently finishing up my second year of coursework in the Religion PhD program at Emory University, and starting qualifying exams in the fall. I was in Pune, India, this last summer, where I participated in the American Institute of Indian Studies Sanskrit language program. I will be giving a paper in Taipei, Taiwan, in March, at the Comparative and Continental Philosophy Circle, on the insight of meditation presented in Kamalāśila's Bhāvanākramaas as a form of knowledge-how in epistemological philosophy.
"Being exposed to the academic side of Buddhism has been extremely helpful in my practice life. Working with Rinpoche was a really big deal for me. He was really able to help me grow in my personal practice. I really appreciated the intimacy of the education here—it helped me figure out my place in the Western world."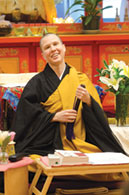 VEN. TENKU RUFF (MDiv 2013) had already had monastic training in Japan before coming to Maitripa. She wanted to get a more academic understanding of Buddhism, learn to better express the Dharma in English and explore the world of Tibetan Buddhism. She now works at New York University Langone Medical Center as a chaplain on the palliative care team. She cares for people working with life-threatening illnesses, providing spiritual support for patients, families and hospital staff. Read an online article, "One Robe One Bowl" by Ven. Tenku Ruff here.
"There's no way I would have gotten into UCSB without Maitripa. I am very grateful for everyone who has worked to make the vision of Maitripa College a reality."
MICHAEL IUM (MA 2014) heard about Maitripa during a visit to Kopan Monastery in Nepal. He came to the college with a strong desire to study Buddhism with a community in a way that he could apply to his everyday life. Impressed with the late Dr. Blumenthal and with Yangsi Rinpoche, he had a "good feeling" about the program. After graduating with an MA in the spring of 2014, he was accepted into the PhD program at the University of California at Santa Barbara (UCSB) in the Religious Studies Department. Upon accepting his application, UCSB awarded him the prestigious "Dean's Fellowship."
2016 UPDATE FROM MICHAEL: I am in the second year of my MA/PhD program in Religious Studies at the University of California, Santa Barbara campus. This year I have had the stimulating opportunity of serving as a teaching assistant for classes on Buddhism, Zen Buddhism, and Gods and Goddesses of India. As an exciting side project, along with two other graduate students at UCSB, I am part of the UCSB Translation Group, currently working to translate a Buddhist sutra for the 84,000 Project.
"Maitripa College, with all the teachers, support staff, and students, gave me the tools to manifest this blessed situation. I am so thankful."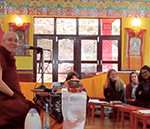 VEN. DROLMA ANN KANE (MA 2009): My life has changed in an unbelievable way in the last year. I never thought that I would be able to visit India and yet here I am. Not only that, but Lama Zopa Rinpoche advised Tushita Meditation Centre in Mcleod Ganj, India, to go ahead and appoint me as their Resident Teacher. So amazing! Maitripa College, with all the teachers, support staff, and students, gave me the tools to manifest this blessed situation. I am so thankful. (Spring 2016)
"What inspired you to attend Maitripa College?"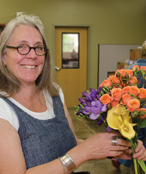 At some point it became clear that I needed to reevaluate the direction of my life and my relationship to livelihood. With that came a strong pull to devote more and more of my time to dharma-related work and connection with people doing the same. At the same time, I had a strong desire for higher education. When I found out about Maitripa and saw that I could acquire a graduate degree in Buddhist Studies, as well as fulfill my spiritual aspirations, it all just made perfect sense. – ANITA BERMONT (MA 2015) grandmother, small-business owner and member of the Insight Dialogue Community. >more about Anita who now also leads special series of public meditation classes in the Jokhang Meditation Hall at Maitripa College
"What is the thing you like the most about studying here?"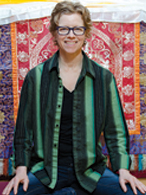 I really love having Rinpoche as a teacher. It's hard to describe. This is such a powerful way to experience the teachings. His personal style is very gentle, humble, fun, playful, curious, mutual and collaborative. Also, I've been a part of many communities over the years, and some of them for a long span of time. But, there is something different here. There is this aspect of inclusivity that I've never experienced anywhere else. Also, people take such good care of each other. This community shows up in ways that really blow my mind. – JULIE DREYER, musician and current MDiv student pursuing a career in Chaplaincy
"What plans do you have after graduation?"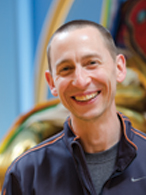 Once I graduate, I'm considering doing something in the helping professions such as counseling, chaplaincy, social work, etc. But it could just as easily be something in the non-profit or activism world. Rather than focus on my "career," I'd rather focus on my purpose for being here: to learn how to be a better human being. My plan for using this education is to do just that. Attending Maitripa College is like going to a trade school for a skill set that doesn't restrict me to any one job or even field of work. I'm not worried about the role so much as how I'll fill that role and interact with others while I'm in it. – DAVID REEB, current MA student and former IT professional
"I really loved the community's excitement and enthusiasm to practice and learning—at all different levels—and being supported by the genuine friendships. I miss that"
KATRINA BROOKS was a CE student who came to us from the Divinity school at University of Chicago to learn how to deepen her practice of Buddhism and improve her Tibetan language skill. With the competence and connections she gained at Maitripa, she was offered a translator position at Deer Park Buddhist Center in Madison, WI. She regularly translates Tibetan texts for the center as well as serving as the main interpreter at public teachings and private interviews for the resident Geshes and Lamas.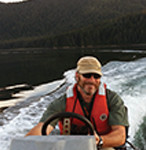 Kenneth O'Brien (MA 2010)
During October of 2015, I presented my original research on Hawaiian whales and the history of Hawaiian whale hunting at the biennial conference on Marine Mammology in San Francisco. At the Hawaiian Islands Humpback Whale Marine Sanctuary on Maui, I also gave presentations last year with Dr. Fred Sharpe and the Alaska Whale Foundation. This summer, I'll return to Alaska as Scientific Expedition Leader on the Admiralty Dream, a 50 passenger tour vessel that travels throughout the wilderness of Southeast Alaska. (Spring 2016)