"Buddhism is a major intellectual and spiritual force in the messy contemporary world of political chaos, environmental degradation, and social-economic injustice, not merely a set of philosophical texts and artifacts from times past." (Rita Gross)
The MA in Buddhist Studies Program at Maitripa College is a 44 credit graduate degree program under the direction of Yangsi Rinpoche. The MA degree focuses on combining rigorous academic study with meditation and community service requirements to offer a superior, integrated education in Buddhist Studies, and is designed for students seeking an in-depth and critical understanding of Buddhist thought in the context of both traditional and academic scholarship.
The degree couples meditative experience of the path and training to integrate Buddhist principles into active service in partnership with a core philosophical curriculum designed to ground the student in Buddhist principles, logic, philosophical arguments, and meditative techniques. The integration of scholarship, meditation, and service is emphasized, with additional required coursework in research methods, history, and a minimum of two terms of classical Tibetan language. Comprehensive exams, or in exceptional cases, a thesis, is the capstone degree requirement.
The MA in Buddhist Studies prepares students to be scholar-practitioners, to pursue doctoral studies and research, to become translators, or otherwise to shape the formation of Buddhism in the West by working within and beyond Buddhist communities. Graduates of this degree will be well-rounded with respect to academic, personal, and social applications of their studies.
The degree may be completed as a full- or part-time student. Full-time students must take a minimum of 6 credits per semester, and are eligible for scholarship funds.
Students in the MA degree programs will have the opportunity to master these required and recommended courses. >MORE
Classical Tibetan Language Track
The Tibetan Language Track can be taken as a stand-alone sequence of courses at the graduate level or as part of the Master of Arts of Buddhist Studies. >MORE
Why the Maitripa College MA Degree?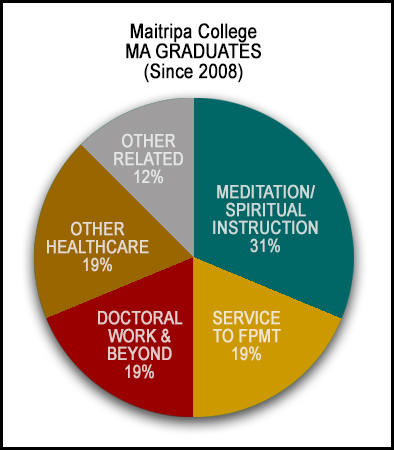 Maitripa's Master of Arts degree program (MA) is a rigorous course of study grounded in traditional Tibetan Buddhist philosophy and practice directly from Tibetan lineage holders. This program has been designed to form individuals who, informed by the Buddha's teachings, can act from a basis of powerful contemplative analysis and critical inquiry directed at both themselves and our world to bring about positive change. The MA degree at Maitripa College prepares students for further graduate work, other training, or service to the world in a range of pursuits.
Maitripa College MA graduates have gone on to:
Become meditation instructors or leaders in their spiritual communities
Careers in service to others in non-profit organizations
Professional Degrees or Doctoral Work in Psychology, Buddhist Studies, Religious Studies, and Education
We know that you have many choices about where to pursue your Master of Arts degree. So why Maitripa College?  Consider:

Our program excels at spiritual formation 
Our curriculum has been carefully constructed based on centuries of knowledge from traditional Tibetan Buddhist learning centers combined with western approaches to higher education. Classes bring students from exploring their own voice and aspirations in the context of Buddhist thought, to forming their personal theology of service, to practicing offering service to others in a container that holds the well-being of both giver and receiver as its primary aspiration.  photo: Instruction in the Maitripa College Jokhang (Meditation Hall) with Visiting Faculty Venerable Thubten Chodron
Our program offers incredible opportunities for mentorship, community, and networks 
Our program has been constructed with the benefit of the experience and engagement of some of the most prominent voices in modern Buddhist Studies. Our community benefits from the guidance and expertise of individuals who have been working at the crossroads of the Tibetan Buddhist tradition in modern America since the first Tibetan teachers began to teach here, in the mid-20th century. Our founders and faculty value this intersection above all, and we are constantly striving to create meaning from the application of traditional Tibetan Buddhist thought to our contemporary times. We do all of this in the container of a close, collaborative learning community that offers opportunities for lifelong transformation. photo: Yangsi Rinpoche (President and Founder) teaching a philosophy class
Our program is on the cutting edge of graduate education in the western world 
We combine contemplative pedagogy, critical analysis, traditional Tibetan Buddhist teachings, and an eye towards the application of Buddhist principles to the practical challenges of our times to bring you a revolutionary education in Buddhist philosophy and practice. photo: His Holiness the Dalai Lama with graduates and faculty in the meditation hall during the 2013 3-day Environmental and Interfaith Summit hosted by Maitripa College