"Buddhism is a major intellectual and spiritual force in the messy contemporary world of political chaos, environmental degradation, and social-economic injustice, not merely a set of philosophical texts and artifacts from times past." (Rita Gross)
The MA in Buddhist Studies Program at Maitripa College is a 44 credit graduate degree program under the direction of Yangsi Rinpoche. The MA degree focuses on combining rigorous academic study with meditation and community service requirements to offer a superior, integrated education in Buddhist Studies, and is designed for students seeking an in-depth and critical understanding of Buddhist thought in the context of both traditional and academic scholarship.
The degree couples meditative experience of the path and training to integrate Buddhist principles into active service in partnership with a core philosophical curriculum designed to ground the student in Buddhist principles, logic, philosophical arguments, and meditative techniques. The integration of scholarship, meditation, and service is emphasized, with additional required coursework in research methods, history, and a minimum of two terms of classical Tibetan language. Comprehensive exams, or in exceptional cases, a thesis, is the capstone degree requirement.
The MA in Buddhist Studies prepares students to be scholar-practitioners, to pursue doctoral studies and research, to become translators, or otherwise to shape the formation of Buddhism in the West by working within and beyond Buddhist communities. Graduates of this degree will be well-rounded with respect to academic, personal, and social applications of their studies.
The degree may be completed as a full- or part-time student. Full-time students must take a minimum of 6 credits per semester, and are eligible for scholarship funds.
Students in the MA degree programs will have the opportunity to master these required and recommended courses. >MORE
Classical Tibetan Language Track
The Tibetan Language Track can be taken as a stand-alone sequence of courses at the graduate level or as part of the Master of Arts of Buddhist Studies. >MORE
Why the Maitripa College MA Degree?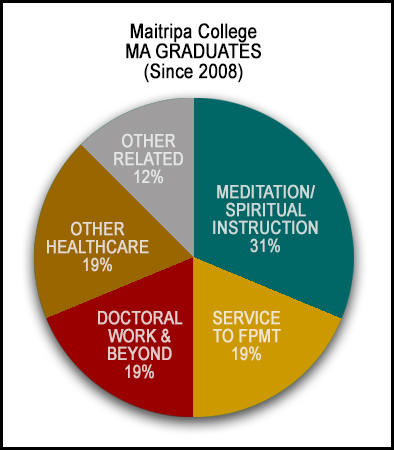 We know that you have many choices about where to pursue your Master of Arts degree. So why Maitripa College? Consider that Maitripa's program: excels at spiritual formation; offers incredible opportunities for mentorship, community, and networks; and is on the cutting edge of Buddhist academics in the country. >EXPLORE MORE ABOUT THESE UNIQUE ASPECTS OF THE MAITRIPA COLLEGE MA