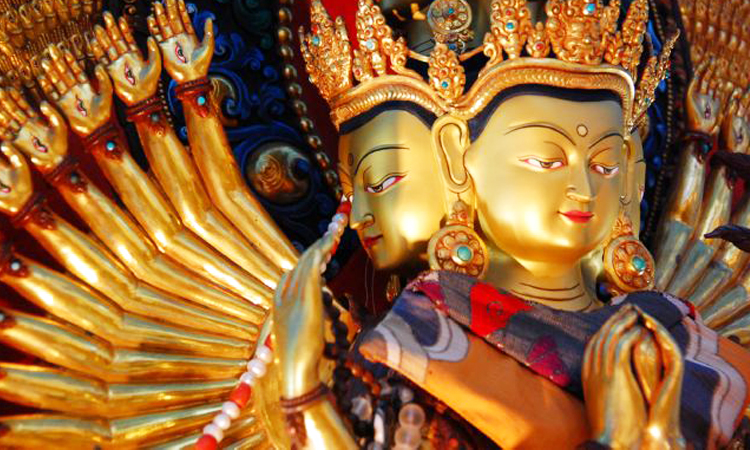 Saka Dawa Nyung Nay Retreat with Venerable Lozang Yönten
Saka Dawa Nyung Nay Retreat
Retreat Leader: Venerable Lozang Yönten
June 2-5, 2023: All Are Welcome
Join Venerable Yönten and our Community for a Nyung Nay Compassion Retreat for Purification and Accumulation of Merit culminating on the Buddhist holy day of Saka Dawa this June!
Nyung Nay is a practice based on the deity 1,000 armed Chenrezig, the Buddha of Compassion, and is extremely powerful for healing illness, purifying negative karma, and opening the heart to compassion.
Registration is open now for this intensive short retreat that includes fasting, precepts, prostrations, prayers, meditation, mantra recitation, and offerings. The retreat practice includes taking the 24-hour Mahayana precepts, with the addition of complete fasting (including abstaining from liquids) and silence on the second day. As a retreat experience, this practice is very effective, but also physically demanding. It is important that you are aware of your own health limitations. Please see additional information below. Registration is required in advance, and closes when maximum capacity is reached, approximately 18 people.
IMPORTANT NOTE: Registration is REQUIRED to attend this retreat; it is not appropriate to attend random sessions of this retreat, so if you register please commit to doing the entire retreat! Registration will close on May 31st; please email program@maitripa.org for questions.
Schedule
Friday, June 2: Mandatory Orientation Session, 5:30-6:30 pm: review of retreat practice, requirements, logistics and schedule, signing required waivers, Q&A
Saturday, June 3: Three sessions: 4:30-8:00am, 9-11:30am, 3-6pm, includes one mid-day meal
Sunday, June 4 (Saka Dawa): Three sessions 4:30-8:00 am, 9-11:30 am, 3-6 pm
Monday, June 5: One session, 4:00-8:00 am, includes breaking the fast and a light breakfast
Note about Mandatory Orientation Session
The Friday Evening Orientation session is mandatory. We cover important logistical information, health care, share contact information, and answer questions. It establishes calm and confident conditions for retreat practice to take care of these details prior to the start of the retreat, which begins early the following morning. Please plan to spend the evening quietly. Prior to the retreat weekend, you may wish to wean yourself off of caffeine, stay hydrated, and optimize nutrition intake.
Registration and Donation
Pre-registration is required for participation. All participants will also complete a questionnaire and waiver at the mandatory orientation session.
The approximate cost to Maitripa College for the 4-day retreat is $250 per person which includes all beverages and food, as well as provided retreat supplies (participants supply their own text-see info on this page). Your support is appreciated at whatever level you are able: please make your offering by clicking on the donation button below or through check or cash onsite at the time of the retreat.
Retreat sponsors are warmly welcome to offer as they are able towards sustaining practitioners and retreats at Maitripa College (email education@maitripa.org to offer sponsorship).
Accommodations
Maitripa College is a non-residential facility and retreat registration does not include accommodations. If your participation is contingent on housing, please let us know. If other participants volunteer to offer housing, we will connect you, but we cannot guarantee housing with a community member. There are nearby hotels, AirBnB rooms, and bed and breakfasts in the SE Portland neighborhoods of Ladd's Addition (closest) and inner Hawthorne, Buckman (north of us), and Hosford-Abernathy (south of us). Community members may be able to assist with transportation, or you can utilize taxi services (the public transportation may not be running on weekend mornings early enough for the first session).
Materials
Share This Page, Choose Your Platform!