Click on the button above to make a 1-time donation in any amount you wish. Please consider checking "make this recurring (monthly)" on the check-out screen – Your gift will automatically be billed monthly and may be cancelled at any time. Thank you!
Maitripa College is committed to responsible and ethical financial stewardship. Maitripa College is a non-profit organization under 501(c)(3) of the Internal Revenue Code. All contributions are tax-deductible within the extent of the law.
The Maitripa College Annual Winter Fundraising Drive ~ Celebrate!
November 1-December 31, 2019
This year's Fundraising Campaign is built on the theme of "Celebrate!"…taking inspiration and joy from the work of Maitripa College and all of you in creating a world in which the full positive potential of every being is recognized and celebrated, a world that you are helping to shape with your continuous support for our mission.
Our Fundraising goal for this season is $50,000, and your gift will go to ensure that Maitripa College can continue to strengthen our programs and learning opportunities for all, and move ever closer towards our long-term strategic goal of attaining full accreditation as a Buddhist college in the United States.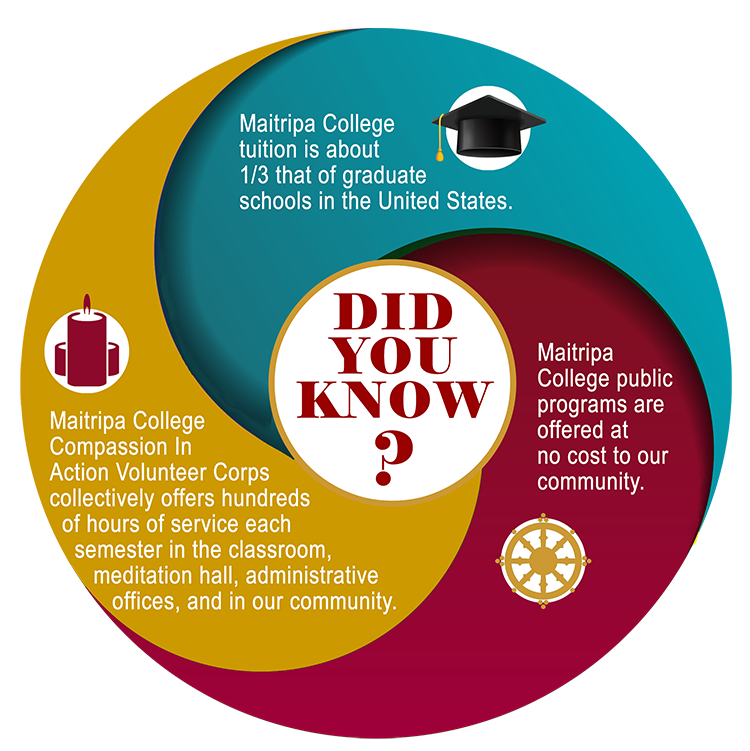 Support the James A. Blumenthal Library at Maitripa College
There are many ways to provide your critical support for our aspirations to create a world-class research library at the College. >details.
Support the Kyabje Lama Zopa Rinpoche Chair of Tibetan Buddhist Studies
Support the long-term academic base of Maitripa with your support of this endowed chair. >details
Support the Maitripa College Scholarship Fund
Help us provide needs-based scholarships for Maitripa students. For details, click below.
Volunteer
There are many opportunities to help Maitripa with your time and energy. >details
Contact Us
Please direct questions or comments regarding all our policies and giving programs to: [email protected].