Make Your Practice Your Life!
Maitripa's Master of Divinity program is grounded in Tibetan Buddhist philosophy and contemplative practices, integrated with contemporary social needs and applied service, to form spiritual care professionals and leaders. We know that you have many choices about where to pursue your Master of Divinity degree.
So why Maitripa College? Consider…

We excel at spiritual formation.
Our curriculum has been carefully constructed based on centuries of knowledge from traditional Tibetan Buddhist monastic universities combined with Western approaches to contemplative pedagogy and spiritual development. At Maitripa, you will have opportunities to develop goals and put them into practice, while immersing in a learning-centered community of scholar-practitioners. Courses guide students – from exploring their own voice and aspirations, to forming their personal theology of care, to practicing offering spiritual care to others – in a container that holds the well-being of both caregiver and care-receiver as its primary aspiration. Students build a solid foundation for lifelong integration of personal, spiritual, and professional growth, the basis for compassionate and skillful actions. (photo: Maitripa College's President, Yangsi Rinpoche, Geshe Lharampa, teaching in the Jokhang Meditation Hall)

We connect you with incredible community leaders and chaplains.
Our program engages with a large network of professional chaplains and others in the field of Buddhist and interfaith ministry, incorporating the wisdom of their experiences. Students learn from working chaplains in healthcare, prisons, Hospice, ministers, clinical pastoral education educators, social workers, and others as they discern their path towards joining an extended network of Buddhist and Spiritual Care professionals and community leaders. Maitripa MDiv students and alumni currently have a 100% acceptance rate into competitive Clinical Pastoral Education internships and post-graduate residencies, springboards to meaningful careers. (photo: The Rev. Dr. Marilyn Sewell and Maitripa Dean Namdrol Miranda Adams with students)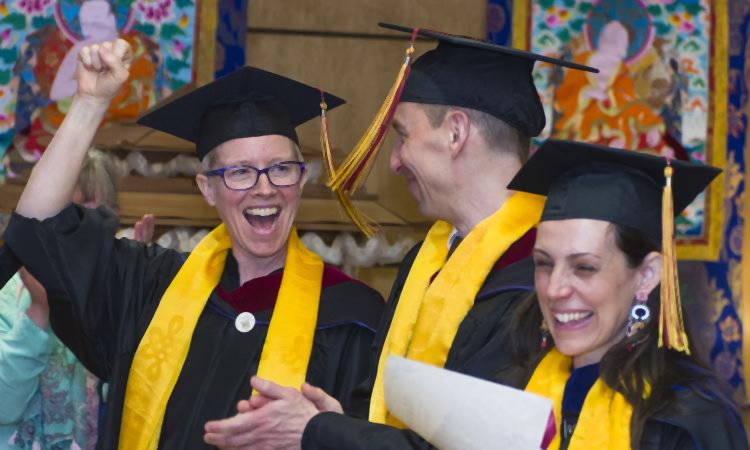 We are on the cutting edge.
Maitripa's MDiv program is one of a handful of places at the forefront of innovations in chaplaincy education and in Buddhist graduate education for spiritual care. Program faculty and administrators are members of national groups focused on the emergence of Buddhist chaplaincy, well connected to professional and educational guidelines and developments. Additionally, as an MDiv graduate connected to our community, you become eligible to request Endorsement from us, recognized by the Association of Professional Chaplains. (photo: Graduation Day!)