Venerable Thubten Chodron is an American-born nun who ordained in the Tibetan tradition in 1977, and received bhikshuni (full) ordination in Taiwan in 1986. Ven. Chondron has been instrumental in advancing the establishment of monastic Buddhism in the West and full ordination for Buddhist women worldwide. She has also contributed to many interfaith projects, and the emerging dialogues between Buddhism and psychology.
Venerable Thubten Chodron emphasizes the practical application of Buddha's teachings in our daily lives and is especially skilled at explaining them in ways easily understood and practiced by Westerners. She recently co-authored Buddhism: One Teacher, Many Traditions with His Holiness the Dalai Lama, among many other authored and edited volumes, from introductory Buddhist works for general audiences to advanced philosophic texts. Bestsellers among them include Don't Believe Everything You Think; Open Heart, Clear Mind; Buddhism for Beginners; Working with Anger; and How to Free Your Mind: Tara the Liberator.
Her new book, Practical Ethics and Profound Emptiness is forthcoming from Wisdom Publications in April 2017.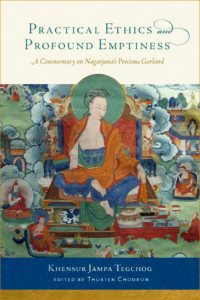 "Though written to a king and composed over eighteen centuries ago, this poetic text by Nagarjuna, The Precious Garland, offers advice like no other for it guides us in leading a wise, compassionate and ethical life even in tumultuous times like our own. For its tenth chapter alone— "Practical Advice for Leaders"—this text is a must-read. A clear, readable, and urgent call to ethical action. This work offers amazing spot-on advice for our times, especially for our leaders and policy-makers."—Jan Willis, author of Dreaming Me: Black, Baptist and Buddhist
For more, visit her website here.