"The Way to a Meaningful Life" with Geshe Pema Dorjee
This episode of the Maitripa College Podcast, "The Way to a Meaningful LIfe", features a teaching from Geshe Pema Dorjee. In a traditional presentation of the essence of the Buddhist path, with great humility Geshe-la shares his insights on how to be happy by stopping harm to others and learning to embrace them with compassion and loving-kindness. Interspersed with stories from his personal life, Geshe-la sheds light on a personal attempt at this simple but profound practice.
Podcast: Play in new window | Download
Geshe Pema Dorjee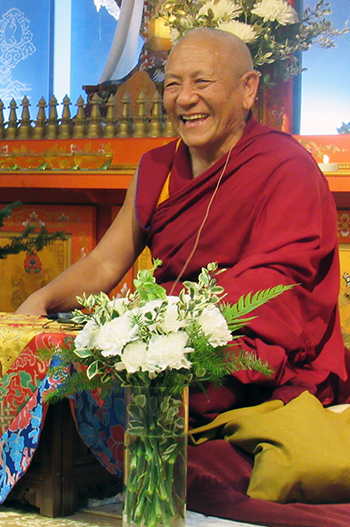 Geshe Pema Dorjee is an internationally renowned Tibetan Buddhist teacher, scholar, and humanitarian who has dedicated his life to alleviating suffering.
Born in 1951 into a Tibetan nomadic family, Geshe-la and his family fled Tibet for India during the 1959 Chinese Communist invasion. In India, Geshe-la studied at the Institute of Buddhist Dialectics in Dharamsala and later Drepung Monastic University in South India.
Among many other activities, Geshe-la served Tibetan refugee communities in India and Nepal, including the Tibetan Children's Village School in Dharmsala for 16 years; served at the request of the Tibetan government-in-exile in various capacities; and travels to the most remote and impoverished regions of the Himalayas, creating humanitarian projects to benefit the local people.
Since 2001, at the Dalai Lama's request, Geshe-la has worked to revive the Bodong tradition of Tibetan Buddhism, which was almost completely eradicated in Tibet. Geshe-la founded a Bodong monastery in Kathmandu, as well as a research and publication center to reproduce Bodong sacred texts in Dharamsala. In 2012 he was honored by the Dalai Lama for his humanitarian work.
Geshe-la is a devoted speaker and humanitarian. His fluent English, keen intellect, clear and practical explanations, warm-hearted nature, and sense of humor enliven his talks and discussions with meaning and inspiration. >more