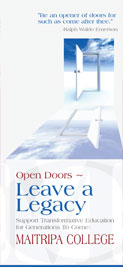 Support Transformative Education for Generations to Come: Students at Maitripa College find their lives transformed through our full-time graduate degree program, distance learning program, and continuing education opportunities centered around the three pillars of scholarship, meditation, and service to the community. Through planned giving, you can ensure that the opportunity and conditions for positive transformation will be available for generations to come.  The steps are easy:

1. Chose the method that is best for you:

At the present time Maitripa College is welcoming planned gifts through two simple avenues:

Charitable Bequests are assets bequeathed in a will or trust. A bequest might be a specific amount of money or assets, a percentage of those assets, or the residual (what is left over after heirs and other obligations are paid) from an estate.
Beneficiary Designations are gifts made to a charitable organizations that occur outside of the will, such as an IRA rollover or an insurance policy.

2. Designate use of your funds:

Your planned gift may be designated in support of an existing fund at Maitripa College such as the Research Library Fund, which is used to develop a world-class library of English and Tibetan texts to support research, translation, and education in Buddhist Studies; or the Student Scholarship Fund, which is used to ensure that every student who wishes to receive an education at Maitripa can do so, without financial hardship. Your gift may offer new opportunities by designating funds to a developing project at Maitripa College such as the Maitripa Endowment Fund, which will be used to support the development of world-class faculty at the College. Or you may choose to leave a legacy of priceless benefit for unknown future needs by offering an Unrestricted Gift to be used where it is needed most.

3. Rejoice knowing that you will benefit many:

Planned giving allows you to offer the world a true legacy that will support future generations for lifetimes to come. Your gift will allow you to facilitate precious opportunities for meaningful, engaged education rooted in wisdom and compassion far into the future. Other benefits of planned giving to Maitripa College include:

Provides the opportunity to give in significant amounts
The opportunity to honor or memorialize a loved one through named gifts
Tax advantages for yourself
Tax advantages for your heirs
Special recognition for the important part you are playing in the development of the future of Maitripa College

Are You Ready to Open the Door?

When you are ready to move forward with considering a planned gift, or if you have questions about the process, please contact us:
Phone: 503-235-2477
Email: development@maitripa.org
Mail: Click on the brochure link above, print the brochure and return the tear-off form to the address provided.