PAULA DOVHOLUK is now a student in the Clinical Pastoral Education (CPE) department at UC Davis Medical Center. She came to Maitripa College with a strong background in hospice care, mainly as a caregiver to many in Portland and Mt Shasta, CA. Paula enrolled in our Master of Divinity Program because she wanted to impact her current and future clients more deeply, by having spiritual resources and clinical knowledge to support their pressing needs during aging, dying, and death. When she got the phone call last summer inviting her to the CPE program at UC Davis Medical Center, she couldn't believe her ears. Not only were residency positions like this competitive, being personally invited to fill them was unheard of. Paula
I've just completed my first CPE unit at UC Davis Medical Center, and started my second unit in February! People say that if you can survive this one year full time residency program at UC Davis Medical Center then you can get hired anywhere. It's very intense because it is a Level 1 Trauma Center. There are six residents from diverse religious traditions and from various countries, which makes it very rich and rewarding. Maitripa gave me a deep foundation in Buddhist principles and values, and the confidence to pursue my professional and spiritual paths.
After completing a single unit of Clinical Pastoral Education (CPE) at the Veterans Administration Medical Center in White City, Oregon, Paula received a phone call from UC Davis Medical Center inviting her into their full-time CPE Residency program. Paula was thrilled:
Because of my training at Maitripa College, I have been able to gain the confidence to say 'Yes, I am a chaplain.' It has been a profound journey, and I don't know how I would have gotten here without the Buddhist training and community of the College. I am excited to connect with current students as a mentor and organize an alumni mentorship council to guide and help future graduates.
Paula is bringing the training and education of Maitripa College into professional service as a hospital chaplain. In fact, 70% of our MDiv. graduates have already secured paid CPE internships or full-time positions in hospital chaplaincy. We congratulate Paula on her great success, and look forward to her voice in shaping the future of Maitripa College.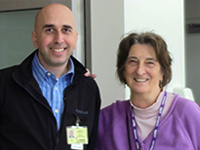 Paula Dovholuk (r) with Arbenit Rrustemaj, a student in the CPE supervisor training program at UC Davis Medical Center