NAMDROL MIRANDA ADAMS
Dean of Education
Community Service Instructor
Namdrol Miranda Adams holds an MA in Education with a focus on Educational Leadership and Policy from Portland State University, and a BA in English Literature from New York University. Since 1998 she has dedicated her life to the study and practice of the Tibetan language and the Tibetan Buddhist tradition. She studied the traditional Tibetan Buddhist texts and their commentaries at Deer Park Monastery in Wisconsin from 1998-2003, and has taken courses and teachings in centers and with teachers in Europe, America, and Asia for the past 16 years.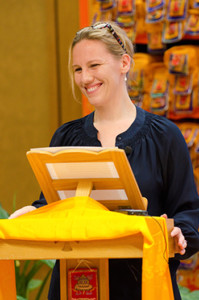 Namdrol has worked extensively with the texts of the tradition as an editor and translator; her published works include Wisdom Publication's Practicing the Path: A Commentary on the Lamrim Chenmo (editor), the Rubin Foundation's Treasury of Lives (translator, editor), Karmapa 900 (editor), the Lama Yeshe Wisdom Archive's Kopan Lam Rim Courses, and more.
Namdrol has completed the major retreats on the sutra and tantra traditions of the lineage, and was ordained as a Buddhist nun for 7 years. She has worked as the assistant of Yangsi Rinpoche since 2000, and is one of the founding members of Maitripa College. She has worked for the past decade with the faculty, staff, and board of Maitripa College to develop curriculum for graduate students that is contemporary, culturally relevant, and simultaneously rooted in tradition.
Her own graduate work focused on contemplative education, service learning curriculums, and building sustainable and socially responsible institutions of higher education. She also worked as a lead organizer on the 2013 visit of the Dalai Lama to Portland.