"Introducing Buddhism: Our View of the World and Our Place In It" with Venerable Damcho Diana Finnegan, PhD
In "Introducing Buddhism: Our View of the World and Our Place In It" with Venerable Damcho Diana Finnegan, who holds a PhD in Buddhist Studies as well as extensive translation and practice experience, we learn that the purpose of Buddhist philosophy is to function as a window through which to view the world. Venerable Damcho explains how studying the words of the Buddha leads to a greater exploration of how we see things and people and how we relate to them, and the way this profoundly affects our relationships with others.
Podcast: Play in new window | Download
Subscribe: RSS
Venerable Damcho Diana Finnegan, PhD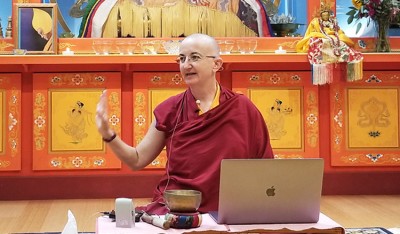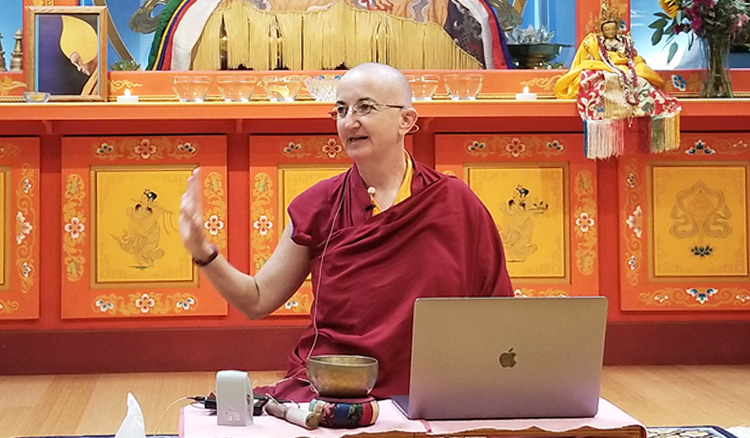 After a career as a journalist based in New York and Hong Kong, Damchö Diana Finnegan ordained as a Buddhist nun in 1999. In 2009, she received her PhD from the University of Wisconsin-Madison, with a thesis on gender and ethics in Sanskrit and Tibetan narratives about Buddha's direct female disciples in the Mūlasarvāstivāda Vinaya. After completing her dissertation she worked closely with the 17th Gyalwang Karmapa, Ogyen Trinley Dorje, serving as co-editor on various publications, including Interconnected: Embracing Life in a Global Society and The Heart Is Noble: Changing the World from the Inside Out.
In 2007, she co-founded Dharmadatta Nuns' Community (Comunidad Dharmadatta), a community of Spanish-speaking Buddhist nuns, based first in India and later in Mexico. Together with the other Dharmadatta nuns, she leads a large Latin American community with a commitment to gender and environmental justice as part of its spiritual practice.
At the same time, Damchö continues to participate in academic circles, presenting at conferences, editing books, and engaging in various research projects. The most recent publication on which she collaborated, a translation from Sanskrit and Tibetan of the manual for conferring full ordination to women, is forthcoming from Hamburg University's Numata Center for Buddhist Studies.