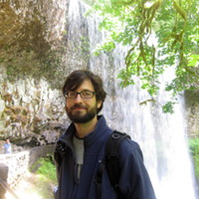 David V. Fiordalis, PhD, is Associate Professor and Chair of the Religious Studies faculty of Linfield College, and a scholar of the religions and cultures of South Asia and the Himalaya, particularly Sanskrit, Pali, and Tibetan Buddhist literature.
David completed his PhD at The University of Michigan under Professor Luis O. Gómez with the dissertation, "Miracles and Superhuman Powers in South Asian Buddhist Literature" in 2008. He also holds an MA in Religious Studies from the University of Chicago Divinity School, and a BA in Asian Studies from Carleton College. He has recently guest edited and published in the Journal of the International Association of Buddhist Studies.
Maitripa College is honored to welcome David as an adjunct professor in Fall 2016, when he will offer students an in-depth study of the evolution of Buddhist thought in The History of Buddhism in India and Tibet (HIS301).
Dr. Fiordalis writes of his academic interests:
"My scholarly work explores the rich cultural, literary and religious heritage of Asia. My primary research focus is Buddhism in South Asia and the Himalayan region; I mainly work with materials in Sanskrit, Pali and Tibetan, three of the principal languages in which traditional Buddhist literature has been preserved. Given the extent to which Asian religious traditions developed in conversation with one another, my work necessarily engages a broader historical and cultural context, including other religious traditions of South Asia (Hinduism, Jainism, etc.), as well as those of both East and Southeast Asia. Although a textual scholar, I actively seek ways to offer a multidisciplinary perspective on religion, employing materials drawn from both contemporary and ancient times, ethnography and archaeology, art history and new media, institutional and intellectual history, comparative literature, philosophy and critical theory. At present, I am weaving some of these various interests into a book on Buddhist miracle traditions."