In May of 2013, Maitripa College hosted a 3-day Environmental Summit in Portland with His Holiness the Dalai Lama, joined by spiritual, environmental, and political leaders from the Pacific Northwest. This video was created in celebration of the event.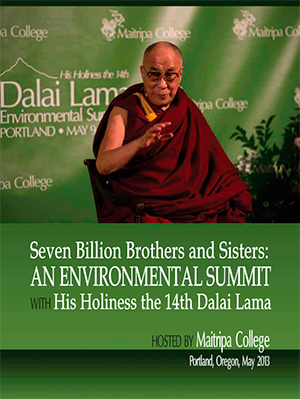 "When I see people with smiles, I feel these are all my brothers, sisters; seven billion human beings, actually, our brothers and sisters." – His Holiness the Dalai Lama
Click on the e-book cover on the right for an on-line experience of all activities over the 3-day summit, including dazzling photos, quotes, and advice from His Holiness and participants.
It is not enough to become passionate. You must act. There are two aspects to action. One is to overcome the distortions and afflictions of your own mind, that is, in terms of calming and eventually dispelling anger. This is action out of compassion. The other is more social, more public. When something needs to be done in the world to rectify the wrongs, if one is really concerned with benefiting others, one needs to be engaged, involved. – His Holiness the Dalai Lama
As we face the environmental issues before us, solutions will come through awareness and individual responsibility. The purpose of this event is not to focus on all that is wrong, but to inspire ourselves and future generations to act in a positive way for the environment. Individual responsibility arises from individual inspiration, formed and catalyzed by spirituality, philosophy, and policy. Therefore, this summit is designed as a platform for these three areas, all driving forces of action on this planet. –Yangsi Rinpoche, Maitripa College President