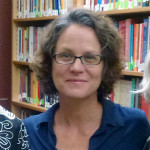 Linda Brown is the Librarian at Maitripa College's James A. Blumenthal Library. Linda earned her MLS from Rutgers University in 1999. She worked for the American Museum of Natural History in New York City for over a decade, cataloging for their National Center for Science Literacy, Education and Technology. Linda was delighted to discover Maitripa College when she moved to Portland from New York City in 2011, and began taking classes here in 2012. After two years as the lead library volunteer, she took on the newly created role of staff librarian in early 2016.
Home life is full and busy in a co-housing community with two children, their dad, two cats, and a dog, making the library a quiet haven where she enjoys every minute of tending to the growing collection and assisting students, faculty, and community members.
Meet Our New Librarian: An Interview with Linda Brown, MLS (2016)
We are thrilled that we were able hire a part-time Librarian this year (for the first time in College history). The dedication and experience of long-time Library volunteer Linda Brown made her an easy fit for the position, and her Master of Library Sciences (MLS) from Rutger's University is important for our planning for regional accreditation. We sat down with Linda for a short talk in February.
Thanks for meeting with us to share how things are going in the Library from your perspective. How did you come into studying Library Science?
I used to be in the insurance business, and I really didn't like that. But I knew that I loved organizing, and helping people find things. Studying Library Science came to me as kind of a revelation.
Does the quiet of a Library bother you?
No, I like it. There are different kinds of librarians: reference desk, circulation, etc. I prefer to be in cataloging, where it's just you and the books (laughs).
What are the coolest texts you've come across in our Library?
Well, I rarely leave here without checking out a book to read, but no specific titles come to mind.
What are your top priorities for moving the Library forward this year?
Getting more people in here! Not only our students, but also community members. We have a great community membership that's really affordable—$25 a year right now. I want more people to check out more stuff, especially our audio-visual, and highlight great movies that we have. You're always better for watching these movies.
Anything else you'd like to say?
Come in! Check out our books—there's such a range—from heady, thick texts, to art book-"pop Buddhism." I especially love the memoirs from western Buddhist students, and the new items from Jim's (Professor Jim Blumenthal's) collection.
Thank you Linda. (Maitripa College Staff; Spring 2016)