Our 2019 Spring Giving Campaign is focused on supporting our three pillars of education—scholarship, meditation, and community service. This unique approach to education was developed and pioneered by Maitripa College. Please support us as we endeavor to develop an accredited Buddhist university based on this unique educational approach, and a thriving community that offers Buddhist programs, practices, and tools for everyone!
Give In Support of the Three Pillars Now!
Click on the button to make a 1-time donation in any amount you wish. Please consider checking "make this recurring (monthly)" on the check-out screen – Your gift will automatically be billed monthly and may be cancelled at any time. Thank you!
Maitripa College is committed to responsible and ethical financial stewardship. Maitripa College is a non-profit organization under 501(c)(3) of the Internal Revenue Code. All contributions are tax-deductible within the extent of the law.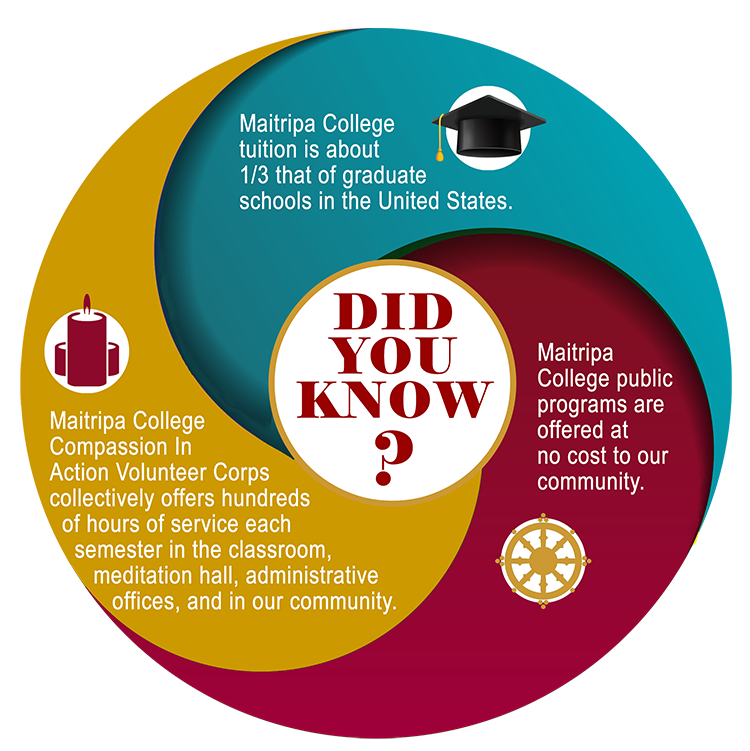 Support the James A. Blumenthal Library at Maitripa College
There are many ways to provide your critical support for our aspirations to create a world-class research library at the College. >details.
Support the Maitripa College Scholarship Fund
Help us provide needs-based scholarships for Maitripa students. For details, click below.
Volunteer
There are many opportunities to help Maitripa with your time and energy. >details
Support the Kyabje Lama Zopa Rinpoche Chair of Tibetan Buddhist Studies
Support the long-term academic base of Maitripa with your support of this endowed chair. >details
Contact Us
Please direct questions or comments regarding all our policies and giving programs to: [email protected].