Maitripa College is committed to responsible and ethical financial stewardship. Even the smallest contribution is valued and needed at this crucial point in our development. Maitripa College is a non-profit organization under 501(c)(3) of the Internal Revenue Code. All contributions are tax-deductible within the extent of the law.
Make a Donation
Please click below to make a 1-time donation in any amount you wish.
Multiply the Merit: Create a Recurring (Monthly) Donation
Please consider setting up a recurring donation in support of Maitripa College. Your donation will automatically be billed monthly to your credit card. You may end your payment arrangements at anytime you wish simply by calling or emailing us. Click on the button and check the option "Make this Recurring (Monthly)" after you enter your donation.
Support the James A. Blumenthal Library at Maitripa College
There are many ways to provide your critical support for our aspirations to create a world-class research library at the College. Click here for details.
Support the Maitripa College Scholarship Fund
Help us provide needs-based scholarships for Maitripa students. For details, click below.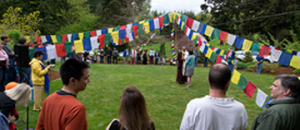 Volunteer
There are many opportunities to help Maitripa with your time and energy.  >details
Support the Kyabje Lama Zopa Rinpoche Chair of Tibetan Buddhist Studies
Support the long-term academic base of Maitripa with your support of this endowed chair. >details
Contact Us
Please direct questions or comments regarding all our policies and giving programs to: development@maitripa.org.