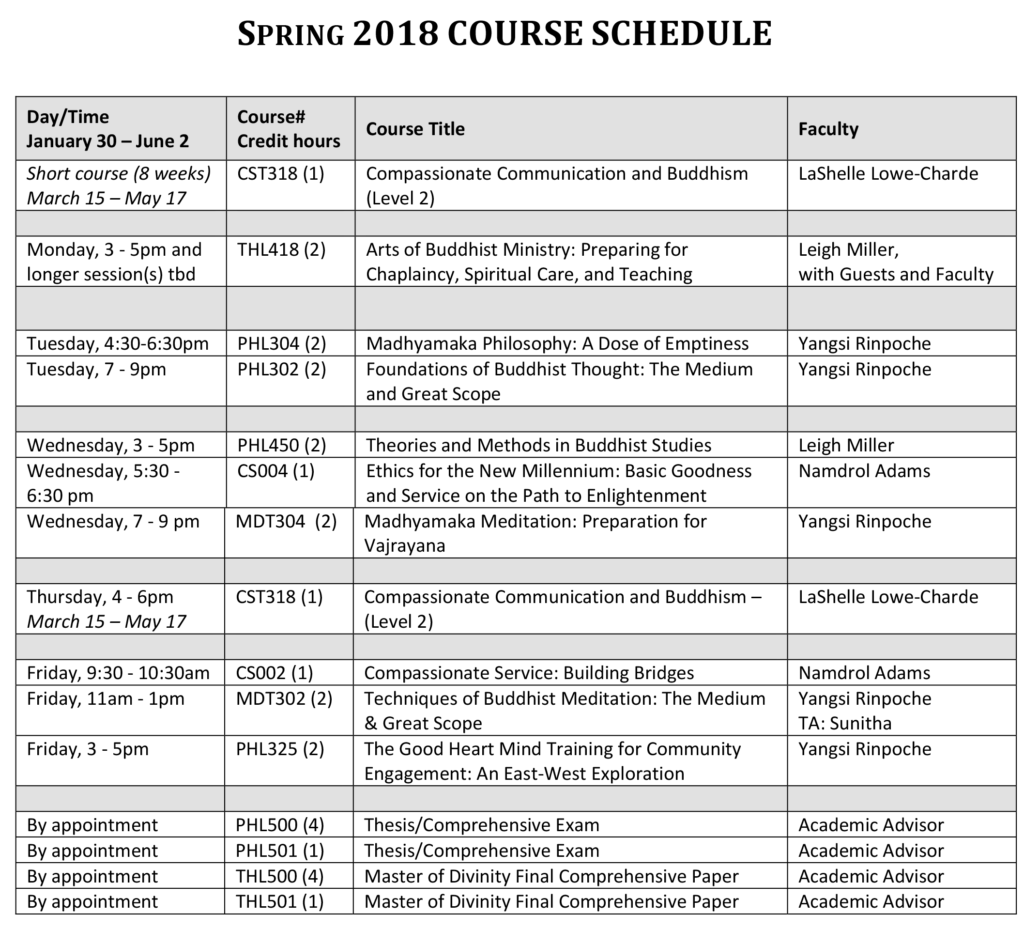 Spring 2018 Course Descriptions and Enrollment Links
Spring 2018 Semester: January 16 – May 18
(Spring Break: March 26 – April 6)
Click here for academic year calendars
See our Spring 2018 course offerings through viewing the weekly schedule on the left (click on the link below the schedule to download a PDF) and review the course descriptions below by clicking on the course number tabs. To enroll for classes, follow the button links.
If you are new to Maitripa College and are wondering if a course or degree program is right for you, please contact Tiffany at studentservices@maitripa.org.
Spring 2018 Courses: Full Descriptions, Schedule, and Instructors (Click on Course Number Tabs on the Left for Details)
THE GOOD HEART: MIND TRAINING TO TRANSFORM OUR LIVES (PHL325). Fridays, 3-5pm.

This course will examine a corpus of Buddhist teachings called lojong (mind training) from both traditional Tibetan Buddhist and Western approaches to applied spirituality in communities. Based on the essential Mahayana Buddhist teachings of impermanence, compassion, and the exchange of self and other, the lojong teachings are a source of guidance shared by masters of all Tibetan traditions. These teachings offer techniques and inspiration toward a deep altruism for others, which in turn trains the practitioner"s mind toward the embrace of tranquility and joy under any conditions. A combination of philosophical study, discussion, reflection, and meditation training will be utilized in the exploration of these topics. Faculty: Yangsi Rinpoche, with Dan Rubin and possible other guests.
FOUNDATIONS OF BUDDHIST THOUGHT: THE MEDIUM AND GREAT SCOPE (PHL302). Tuesdays, 7-9 pm.

This course continues the introduction to Buddhist thought begun in PHL301, to focus on the Mahayana perspectives of bodhicitta (awakening the mind of enlightenment through altruistic compassion) and selflessness.
TECHNIQUES OF BUDDHIST MEDITATION (MDT302). Fridays, 11 am -1 pm.

This course continues the introduction and establishment of meditation practices of calm abiding and analytic insight. The topics will pair with PHL302 class, and include overcoming obstacles to practice, establishing regular structure for practice, compassion, selflessness, loving kindness, and so forth. Students will keep meditation journals and consult with the teacher about their practice. The class facilitates moving philosophic concepts from the intellect to the heart and into our daily lives.
A DOSE OF EMPTINESS (PHL304). Tuesdays, 4:30-6:30 pm.

This course is the second in a year long, two part series on understanding emptiness in Madhyamaka philosophy. The course focuses on a detailed reading of a major treatise, A Dose of Emptiness, which presents a detailed explanation of the nature of reality.
MEDITATION ON EMPTINESS (MDT304). Wednesday 7-9 pm.

Deepen meditation upon the key points in the philosophy of emptiness. The course will be taught in an interactive format, allowing students the opportunity to learn specific meditations as directed by the instructor, practice them, and develop, stabilize and integrate their experience with Madhyamaka meditation throughout the term. Students are required to engage in regular meditation sessions on related topics out of class, and encouraged to enroll in PHL304.
ETHICS FOR THE NEW MILLENNIUM: BASIC GOODNESS AND SERVICE ON THE PATH TO ENLIGHTENMENT (CS104). Wednesdays, 5:30pm-6:30pm.

This course will use the foundational knowledge of the graduated path to enlightenment as a basis from which to explore practical ways in which we can act in service in our world. The underlying assumptions of this course is the reality that the number of people who spend their lives engaged in violence and dishonesty is tiny compared to the vast majority who wish others well, and the concept put forth by Buddhist leaders that our survival has depended and will continue to depend on our basic goodness. This course will use excerpted readings, discussion, music, and multimedia to supplement the primary text Ethics for the New Millennium, a presentation of an ethical system that is based on universal rather than religious principles. Faculty: Namdrol Adams
COMPASSIONATE SERVICE: BUILDING BRIDGES. Fridays (CST002) 9:30 – 10:30 am.

Building on the foundation of CST001, this course will focus on developing the students' practical understanding, fluency, and perspective on issues of Buddhist social service, with a focus on framing community issues in terms of spiritual practice, caring for spiritual communities, and models of community care. As with all service learning curriculums at Maitripa, the course will emphasize the laboratory of the service partner environment and one's own mind as the foreground for understanding, integration, and transformation. As this is a core class for degree program students, another level of emphasis and exploration will also be placed on development of leadership skills and methods inside and outside of one's own community. This class includes a 30-hour concurrent service-learning project.
COMPASSIONATE COMMUNICATION AND BUDDHISM (CST318). Thursdays, 4-6pm (March 15-May 17).

This course builds upon an introduction to Compassionate Communication (such as CST317) to focus on practicing the view and skills of Compassionate Communication, and explore how that relates to and interacts with Buddhist practice. Compassion Communication practices will focus on offering empathy, setting boundaries, and navigating conflict. Given that we are in a Buddhist context, we will talk about the relationship between Compassionate Communication and Buddhist concepts and practices, including meditation, mindfulness, ethics, and the nature of self. This course is an intermediate level course which assumes prior introduction to Compassionate Communication. Faculty: LaShelle Loew-Charde
ARTS OF MINISTRY: PREPARING FOR CHAPLAINCY, SPIRITUAL CARE, AND TEACHING (THL481). Mondays, 3-5pm with other sessions tbd.

This course examines modes and ethics of being in religious and spiritual service to self and others, within Buddhist and non-Buddhists contexts. Emphasis will be on practical elements of preparing for and holding leadership, and the integration of religious knowledge, personal practice, and identifying one's spiritual authority. In spring 2018, this will include units on understanding and preparing for clinical pastoral education, homiletic writing and speaking, and guiding in the Buddhist community. This course is open to and enrollment encouraged for all students, particularly MDiv students and those considering Buddhist or meditation teachers in the future. Required for students who may seek Endorsement from Maitripa. Instructors: team teaching and local guests, facilitated by Leigh Miller
THEORIES AND METHODS IN THE STUDY OF BUDDHISM (THL450). Wednesdays, 3-5pm.

This course is designed to give students the methodological and theoretical tools needed to think critically about ways to approach the academic study of Buddhism. What are the goals of Buddhist Studies? What are the best methods for achieving those goals? What sorts of presuppositions and assumptions do we bring into our work and our orientation towards Buddhism? How do political, religious, and/or ideological preferences impact our engagement with the object of study? What are the authoritative sources for the information we want and how do we determine that? What sorts of responsibilities do scholars have? What we study and how we study it are inextricably tied to questions of theory and method. Those who see methodological discussions as needless academic meanderings do not somehow thereby free themselves of methodological biases. Everybody engages their object of study with a theoretical and methodological orientation. The goal of this class is to encourage students to do so consciously, to think about their own assumptions and the assumptions of the broader community of scholars who engage the Buddhist traditions. Faculty: Leigh Miller