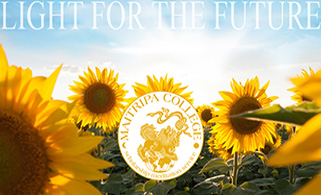 Light for the Future
Spring Giving Campaign
May 6-June 3 ~ Goal: $40,000

Maitripa College students are revolutionizing the world, bravely stepping aside from the status quo to develop their hearts and minds through a unique immersion in study, meditation, and community service based on ancient Tibetan Buddhist philosophy and practice that supplies them with the resiliency, knowledge, and compassion to truly effect peaceful, lasting transformation in the modern world.
Now more than ever, we need good hearts and strong voices to help bring about positive change. But without the support of a loving and constant community this work cannot occur. So please consider supporting the mission of Maitripa College and the courageous men and women who are enrolled here by giving what you can now.
Our current fundraising goal is $40,000, $25,000 of which will be directed entirely to support students in their education at Maitripa College through our Scholarship Fund. Please use the following buttons to add your support now!