Please consider supporting new acquisitions for the Library by visiting our Wish List available through Alibris (click on the button above). By purchasing books from this list, you are helping to build a library at a Buddhist institute devoted to rigorous study, community service and meditative practice. Book donations are tax-deductible to the fullest extent of the law, and accompanied by immense gratitude!
Our Name and History
Click here for photos and history of the library including the 2015 dedication ceremonies.
Faculty Publications
Adams, Miranda (Namdrol)
Blumenthal, James
Cabezón, José Ignacio
Jackson, Roger
Magee, William
Miller, Leigh
Preston, Craig
Sewell, Marilyn
Vannoy, Steven
Willis, Janice Dean
Yangsi Rinpoche
Volunteer Opportunities
Please contact library@maitripa.org for current volunteer opportunities and upcoming projects in the library.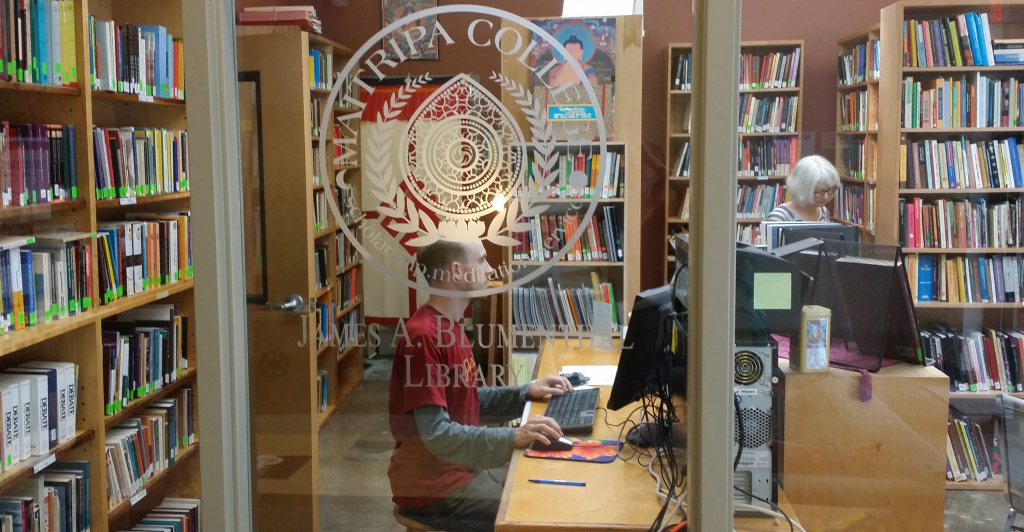 JSTOR
JSTOR is a digital library of academic journals, books, and primary sources.
Subscription access via Maitripa College is available to library visitors via JABL computer workstations.
Staff, faculty and registered students may access via Maitripa College by password below.
Contact library@maitripa.org for the password or in Populi_Library_Links (must be logged in to Populi).
Gale Databases and Collections
Gale provides 24 databases with magazine, journal, and news articles, reference eBooks, statistics, images, audio, and video content. Access available offsite to students, faculty, staff and community patrons (onsite to all library visitors). Email library@maitripa.org for password access or via Links in the library catalog (log into Populi). >More about the Gale Databases and Collections
Quicklinks:
JABL Online Catalog
Student Information
Library Services
Please email library@maitripa.org or visit the library for assistance with:
Finding library materials
Reference and research assistance
Library orientation
Catalog assistance
Writing guidance
ILL (Interlibrary Loan)
Additional reading to support classes
Course materials
Personal research assistance
Searching / accessing online databases
Copyright and Fair Use
Copyright Resources and Fair Use Best Practices
The James A. Blumenthal Library at Maitripa College currently holds over 4,500 titles in print and multi-media materials, comprised chiefly of texts in English. Additional titles include videos of teachings and films, audio teachings and guided meditations, magazines and journals, as well as Tibetan, Sanskrit, and Chinese works. The goal of the Library at Maitripa College is to develop a lending and research facility that will meet the highest standards of print and digital collections and information resources for the use of our students, faculty, and local community for many years to come.