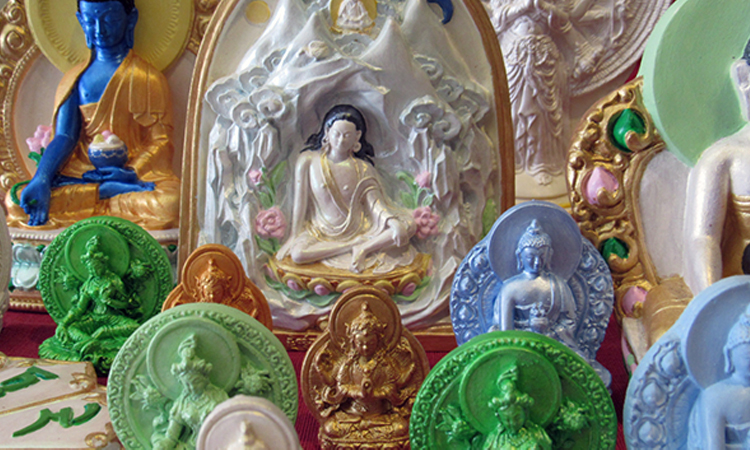 Tsa-Tsa Making Workshop Summer 2022
August 13 @ 11:00 am

-

2:30 pm
TSA-TSA MAKING WORKSHOP
Saturday, August 13, 2022 ~ 11am-2:30pm
This workshop is limited to in-person eight attendees; registration is required. Everyone coming to Maitripa College must submit proof of full vaccination.Please click here to submit your vaccination registration at least 48 hours before coming to Maitripa in person. You only need to submit this form one time. We will delete the image of your vaccination card once we have you on the registration list. In accordance with public health recommendations, as of April 1, 2022, masks are no longer required inside the Maitripa College building.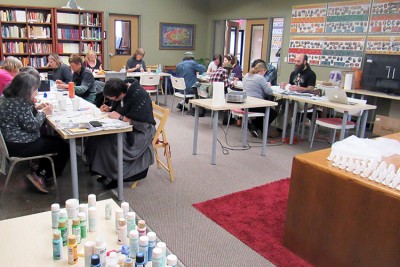 Making tsa tsas (low-relief images of Buddhist deities) is an ancient Tibetan Buddhist art and one of the traditional preliminary practices in the Gelug tradition. Tsa tsas are made as a sacred practice, with each step in the process—mixing the materials, casting the images, and so on—done with specific visualizations, mantras, and prayers. Making tsa tsas creates great merit along the path and helps bring realizations, according to FPMT's spiritual guide, Lama Zopa Rinpoche.
Roberta will first introduce us to the history and background of Tibetan tsa tsas, and then guide us through each step of the practice. At the end of the day, students will be able to bring home the tsa tsas that they create. No prior experience is required to attend, but since this is a Dharma practice, participants should be prepared to recite refuge and other prayers.
What You Need to Bring
1 apron (or something to cover your clothes from spatter)
1 rubber spatula
1 rubber whisk (for mixing)
1 2-cup plastic measuring cup or small pitcher (for pouring the material into the molds)
Other Important Details
Maitripa College will provide the tsa tsa molds and gympsum.
We'll take a one-hour break for lunch while the tsa tsas are drying. You can bring your own lunch or go to a nearby food truck.
Tsa tsa-making is a messy process! Please dress in clothes you don't mind getting dirty.
Online Resources
About the Instructor
Roberta Raine began making tsa tsas in 1999 after having been given a tsa tsa commitment by Lama Zopa Rinpoche. The next year, Lama Zopa Rinpoche appointed Roberta director of the Tsa Tsa Studio/Center for Tibetan Sacred Art, an FPMT center dedicated to the practice. She was director of the center for five years, running its educational program and teaching the practice to students. The center closed some years later, but Roberta has continued to make tsa tsas and teach the practice to others. Roberta has been a student at Maitripa College since 2016. >more
---
GENEROSITY: Unless otherwise noted, all Community Events at Maitripa College are offered at no cost, but we rely upon the generosity of our community to continue to facilitate these programs. Please give according to your means and capacity. Please click here to donate now.
Share This Page, Choose Your Platform!