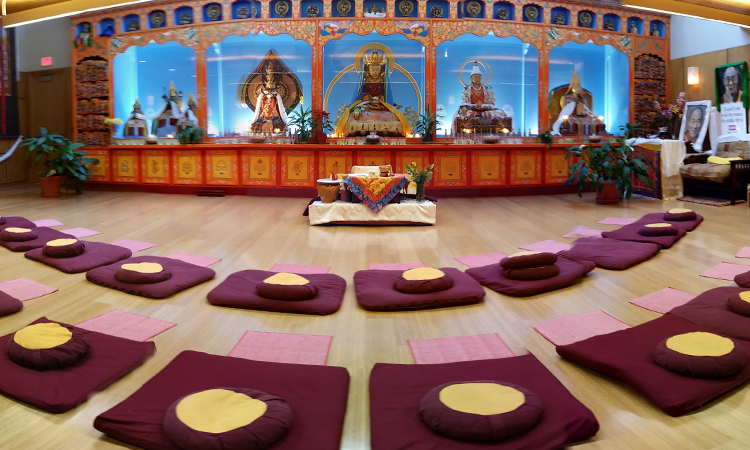 Summer Retreat Day: Prayers and Practices for Our Teachers
May 29 @ 11:00 am

-

12:30 pm
Sunday, May 29, 2022. 11am-4pm
Summer Retreat Day: Prayers and Practices for Our Teachers
with Yangsi Rinpoche
All are welcome to attend. Onsite and on Zoom. Registration required.
RETREAT SCHEDULE
Morning Session: 11-12:30 pm
Guru Puja (Lama Chöpa): The Guru Puja practice (Lama Chöpa in Tibetan) is a prayer ceremony done in traditional Buddhist communities in the Gelug lineage as a practice of making offerings to and requesting inspiration from the spiritual teacher in order to prepare one's mind to realize the teachings. As well, this practice is considered a powerful method to restore degenerated vows and commitments. This practice will be chanted in Tibetan, with traditional tunes.
Lunch: 12:30-1:30 pm
A simple vegetarian lunch will be offered by Maitripa College, or you are welcome to bring your own.
Afternoon Session I: 1:30-2:30pm
Refuge and bodhicitta, practices for long life
Tea Break: 2:30-3 pm
Afternoon Session II: 3-4pm
Refuge and bodhicitta, practices for long life
---
Resource: Pujas by the People (PDF click here to download)
---
---
---
GENEROSITY: Unless otherwise noted, all Community Events at Maitripa College are offered at no cost, but we rely upon the generosity of our community to continue to facilitate these programs. Please give according to your means and capacity. Please click here to donate now.
---
ONSITE VACCINATION: Full vaccination against Covid-19 is required to attend events onsite at Maitripa College. Click here if your vaccination is not already documented with us.
Share This Page, Choose Your Platform!