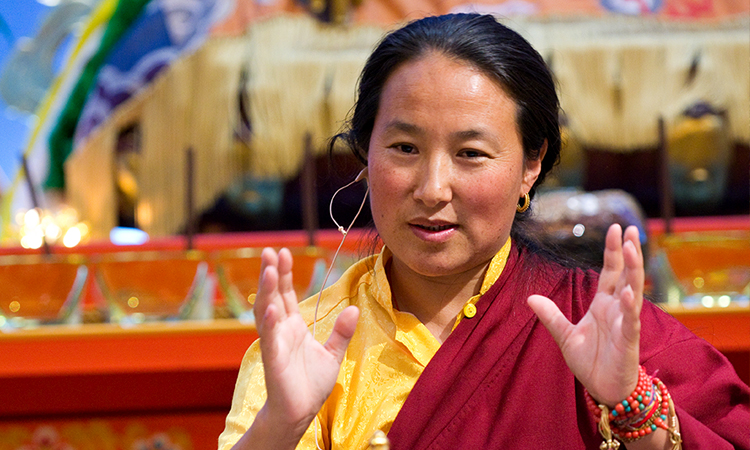 A Weekend of Practice in Community and Teachings by Khandro Tsering Kunga Bhuma (Khandro-la)
Creating the Conditions for Our Teacher's Swift Return:
A Weekend of Practice in Community and Teachings by Khandro Tsering Kunga Bhuma (Khandro-la)
Portland, Oregon ~ June 24-26, 2023
In order to create auspicious conditions for the swift return of our teacher, Lama Zopa Rinpoche, to guide us all, Yangsi Rinpoche and the Maitripa College community invite you to join us for a long weekend of practice and teachings in Portland, Oregon, anchored around the auspicious visit of Khandro Tsering Kunga Bhuma (Khandro-la).
We are very happy to share that respected FPMT teachers Venerable Lozang Yönten, Venerable René Feusi, and Venerable Robina Courtin have agreed to lead practice and conversation sessions and offer advice in Portland during this event.
A simple vegetarian lunch and afternoon tea will be offered as well. Please register for meals and practice sessions as well as the teachings so we know you are coming.
---
IMPORTANT NOTE FOR ORDAINED SANGHA

Ordained Sangha are warmly welcomed and invited to these events; your in-person presence is so inspiring to us! Please register separately by emailing l.yonten@maitripa.org. Maitripa College is a non-residential facility that houses a Gompa, where Khandrola will be teaching. We can guarantee your seating at this event at present and we are going to try our best to support ordained sangha with housing, but we are still working on this; please be in touch with your needs/wishes.
---
Share This Page, Choose Your Platform!