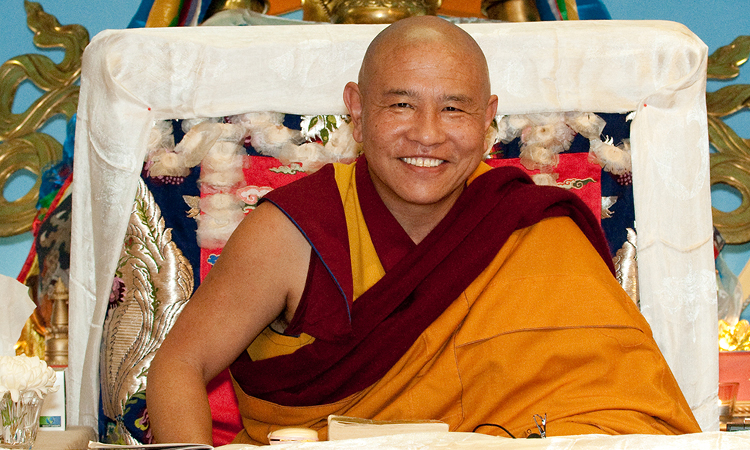 Jhado Rinpoche: January 18-25: Complete Schedule of Events
JHADO RINPOCHE VISITS MAITRIPA COLLEGE
JANUARY 18-25, 2022 TEACHING SCHEDULE OVERVIEW
Please join us for these special opportunities to receive teachings and blessings from one of the greatest living masters of our time! Restricted in-person options to attend are now closed but please follow the individual links below to register to join on Zoom. Open to all, no cost to attend but your donations are welcomed:
---
All events require pre-registration EXCEPT for Maitripa College students already enrolled in a given event's class (see details on each event page linked below).
Most events will be offered on Zoom (unlimited; open to all); see event links for individual event details; in-person options are now closed.
Confirmed registrants coming in person to Maitripa College must submit proof of full vaccination and wear masks. Please click here to submit your vaccination registration. You only need to submit this form one time, as we will have an ongoing list for those that have submitted their forms. We will delete the image of your vaccination card once we have you on the registration list.
Click on the individual links below for more details, descriptions, and registration links (online via Zoom only)
All times are Pacific Time (PT)
---
Tuesday, January 18, 2-4 pm PT
Deity Yoga and the Four Classes of Tantra (PHL404: Fundamentals of the Vajra Vehicle) >MORE AND TO REGISTER
---
Wednesday, January 19, 10am-12pm PT
Mind and Mental Factors in Sutra and Tantra (PHL302: Foundations of Buddhist Thought, the Medium and Great Scopes) >MORE AND TO REGISTER
---
Thursday, January 20, 10am-12pm PT
Meditation on Emptiness in Sutra and Tantra (MDT330: Meditations on Emptiness) >MORE AND TO REGISTER
---
Thursday, January 20, Evening, 5:30-7pm PT
Refuge Ceremony (first time refuge in-person only; or attend as witness or to renew your refuge – space extremely limited and restrictions apply) >MORE AND TO REGISTER
---
Friday, January 21, 5:30am PT
Mahayana Precepts >MORE AND TO REGISTER
---
Friday, January 21, 10am-12pm PT
Mahamudra Meditation (MDT302: Techniques of Meditation, The Medium and Great Scope) >MORE AND TO REGISTER
---
Saturday, January 22, 2-4pm PT
Six-session Guru Yoga and the Three Kayas (Community Event *Open to All*) >MORE AND TO REGISTER
---
Sunday, January 23, 11am-1pm PT
Green Tara Empowerment (Community Event *Open to All*; in-person registration is full but you may register to attend online via zoom) >MORE AND REGISTRATION UPDATES

---
Tuesday, January 25, 2-4pm PT
Introduction to Kalachakra (PHL404: Fundamentals of the Vajra Vehicle) >MORE AND TO REGISTER
---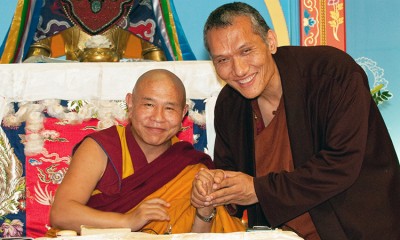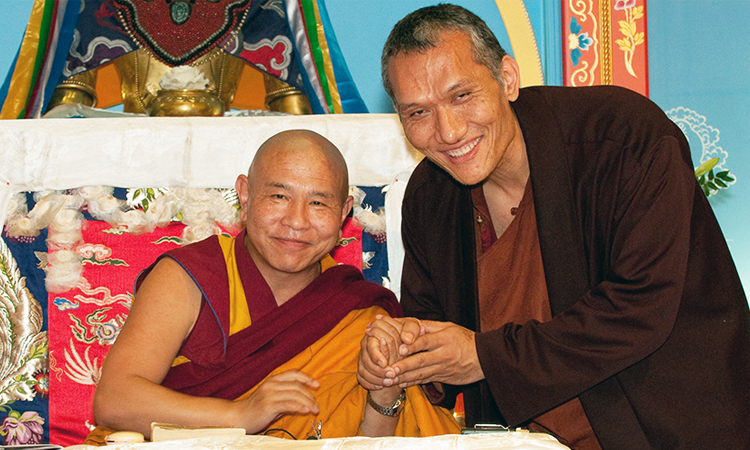 JHADO RINPOCHE (Tenzin Jungne) was born in 1954 to a nomadic family living in the area of Namtso Lake, 220 kilometers north of Lhasa, Tibet. At the age of three he was recognized and enthroned as the 6th incarnation of the abbot of Jhado Monastery.
From 1992 until 1996, Rinpoche served as a teacher at Namgyal Monastery in Dharamsala, the personal monastery of His Holiness the Dalai Lama. In 1997, Rinpoche was appointed to the post of Abbot of Namgyal Monastery, and served the institution in that capacity until 2004.
Jhado Tulku Rinpoche is one of the most highly esteemed lamas in the Geluk lineage today. In addition to his excellent education in the Geluk monastic college system, over the years Rinpoche has also received many oral transmissions and empowerments from His Holiness the Dalai Lama and his two main tutors, as well as from many great teachers from other traditions, including the famous Nyingma master Trulshik Rinpoche and Chogye Trichen Rinpoche.
Renowned for his keen intelligence and dynamic teaching style, Jhado Rinpoche is also highly acclaimed for his ability to engage Western students in ways that are interesting and personally relevant. In addition to these qualities, Rinpoche is also well known and loved for his gentle demeanor and his kindness.
(photo: Jhado Rinpoche and Yangsi Rinpoche in the Maitripa College Jokhang Meditation Hall during a 2009 visit.)
Share This Page, Choose Your Platform!