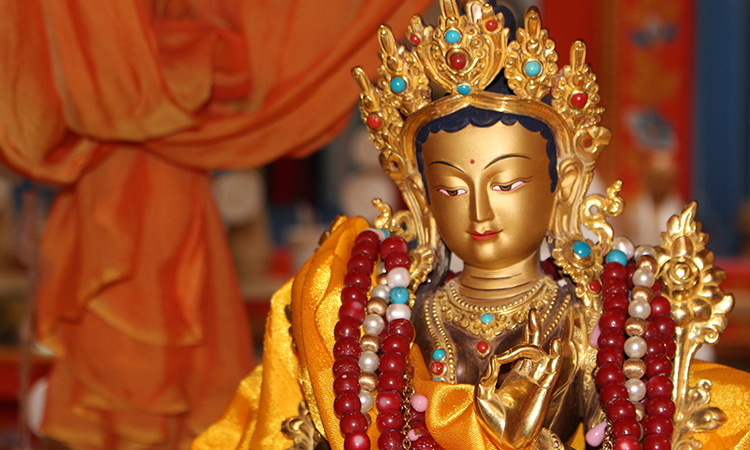 Green Tara Retreat with Venerable Losang Yönten
February 26 @ 10:00 am

-

3:00 pm
PLEASE NOTE: Due to the difficulties in transportation caused by the recent weather we will be moving the planned Tara Retreat day with Venerable Yonten entirely online. Please register here to attend by Zoom if you have not done so already. Maitripa College will NOT be open on Sunday.
This one-day retreat will focus on connecting with and deepening our connection with Green Tara, Buddha of Enlightened Activity and Protection. We will mainly use the short sadhana of Green Tara (the kriya/action/lowest tantra version of the practice), which includes the Praises to the 21 Taras and is intended as a support for people who have received a jenang of Green Tara, although the practice day is open to everyone. There will be mantra meditation, visualization and chanting, prayer recitation, and time for questions. Text will be provided.
Sunday, February 26, 2023 from 10:00 AM to 3:00 PM PST
10-11 am | break | 11:15 am -12:15 pm | lunch break* | 1:30-3 pm
Open to all but registration is required:
About the Practice Facilitator
Bhikshuni Lozang Yönten has been a nun since 2003 and is currently the Chaplain of Maitripa College as well as a Lecturer of Buddhist Studies. Ven. Yönten has great joy and enthusiasm for Tara practices of all types, and has studied and practiced Buddhist Tantra for over 20 years.
Bio
Buddhist since her teenage years, Ven. Yönten moved to Australia and studied extensively under Gyumé Khensur Rinpoche Geshe Tashi Tsering (of Chenrezig Institute, AU) from 2002-2009 before moving to study at Thosamling Institute in India from 2010-2011. In 2012, she was requested to become the Resident Teacher at Kunsang Yeshe Retreat Centre in New South Wales, Australia where she remained for three years. From 2015 onwards, Ven. Yönten was mainly based in New Zealand at Mahamudra Centre. During that period, she divided her time between leading retreats in New Zealand and teaching Philosophy at Human Spirit: Buddhist Psychoanalytic Training Program in Israel, as well as offering classes and retreats in various parts of Europe, until she moved back to the USA in 2021. Prior to joining Maitripa College, Ven. Yönten offered retreats and courses at Vajrapani Institute and Land of Medicine Buddha – both in California. In addition to her formal Buddhist practice, she has experience in hospice work and palliative care, as well as a deep commitment to social justice and a love of animals.
Share This Page, Choose Your Platform!