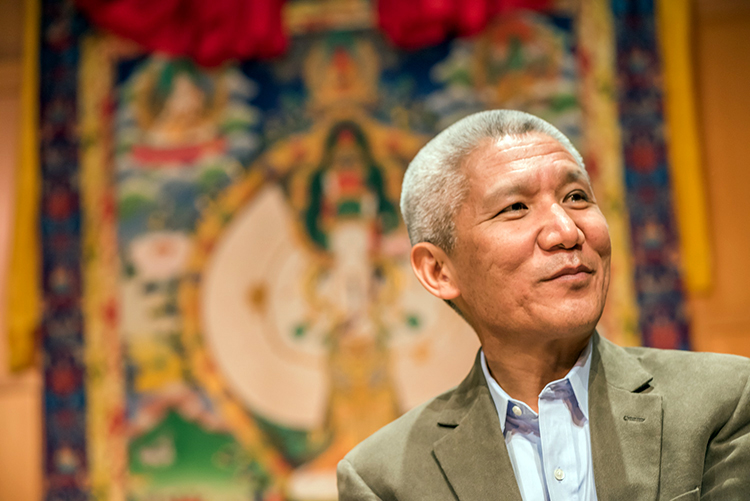 Geshe Thupten Jinpa, PhD Open Class
October 12 @ 2:00 pm

-

4:00 pm
Geshe Thupten Jinpa, PhD
WHAT EXACTLY IS BEING NEGATED IN THE CONTEXT OF YOGACARA'S VIEW OF EMPTINESS?
Some Reflections from Khedrup Je's Great Summary on Profound Emptiness (Stong thun chen mo)
The Great Summary on Profound Emptiness (Stong thun chen mo) is deservedly recognized as a major philosophical treatise of Khedrup Gelek Palsang, one of the two senior disciples of Je Tsongkhapa. Written as a supplement and an aid to studying Tsongkhapa's Essence of Eloquence, the text is famed for its clarity and rigor, as well as comprehensiveness of its scope.
In this talk, Geshe Jinpa will focus on Khedrup Je's articulation of what exactly is being negated in the context of Yogacara theory of emptiness within its framework of the theory of the three natures – the dependent, the imputed, and the consummate – and how does it differ from the more general Buddhist philosophy of language that rejects any intrinsic relationship between words and their references.
Join us for this rare opportunity! All are welcome, although some background in Buddhist Madhyamaka philosophy will be helpful. This class is offered at no charge, but registration is required. Registration closes 1 hour before the event begins:

Geshe Thupten Jinpa, PhD
Date: October 12, 2021
Time: 2-4pm PT (online via Zoom)
photo: Geshe Jinpa at Maitripa College, 2015 by Chris Majors
About Thupten Jinpa
THUPTEN JINPA is a former Tibetan monk who holds the Geshe Lharam degree, as well as a B.A. in philosophy and a Ph.D. in religious studies, both from Cambridge University. Since 1985, he has been the principal English translator to H.H. the Dalai Lama and has, in that capacity, traveled extensively with him.
He has translated and edited numerous books by the Dalai Lama, including the New York Times Bestsellers "Ethics for the New Millennium" and "The Art of Happiness" and "Towards a True Kinship of Faiths: How the World's Religions Can Come Together."
Jinpa's own publications include works in Tibetan, English translations of classical Tibetan texts, and books, "Self, Reality, and Reason in Tibetan Philosophy," "Dispelling the Darkness: A Jesuit's Quest for the Soul of Tibet" (co-authored) and "A Fearless Heart: How the Courage to be Compassionate Can Transform Our Lives." Jinpa's latest book is "Tsongkhapa: A Buddha in the Land of Snows," a modern biography of one of Tibet's greatest masters released in November for the 600th anniversary of his nirvana.
Jinpa is the main author of CCT (Compassion Cultivation Training), an eight-week formal program developed at Stanford University and is a noted speaker on secular adaptations, mindfulness and compassion. He is the founder and president of the Compassion Institute, the chair of Mind and Life Institute, founder of the Institute of Tibetan Classics, and an adjunct professor at the School of Religious Studies at McGill University. Jinpa lives in Montreal and is married with two daughters.