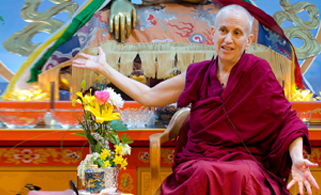 Practical Ethics for Our Times with Venerable Thubten Chodron
06/02/2017 @ 7:00 pm

-

06/03/2017 @ 4:00 pm
Friday, June 2: 7pm-9pm
Saturday, June 3: 10am-12pm; 1:30pm-4pm
If you could talk to the President about how to run this country, what would you say? Second century Indian Buddhist philosopher Nagarjuna had the opportunity to teach a king, and his advice on how to govern with wisdom and compassion is recorded in his beautiful poem, A Precious Garland of Advice for a King, an inspiring early example of Buddhist advocacy on social policies.
As we move into increasingly turbulent times, Venerable Thubten Chodron draws from Nagarjuna's text to offer practical advice for all of us on how to put our values into action, to bring benefit to ourselves and others now and in the long-term. Holding a space for reflection and discussion over the weekend, she will teach from her latest book, Practical Ethics and Profound Emptiness: A Commentary on Nagarjuna's Precious Garland by Tibetan scholar Khensur Jampa Tegchok.
Join her for a public talk and daylong workshop to explore how to take your spiritual practice off the cushion, to create peace from within and without in a chaotic world.
Volunteer for this Event
Volunteering to help at Dharma and Community programs at Maitripa College is a great way to get involved, make friends, return the kindness of those who have already made this program possible, and to sustain the programs to be of benefit to others in the future. Enjoy the opportunity to practice generosity and warm-heartedness by clicking on the Volunteer Sign Up button. Training and details will be provided as needed, or contact us at program@maitripa.org with your questions.
Suggested donation levels:
Sponsor (includes new book and reserved seating): $216
Supporter of Community Dharma Programs: $108
General Audience: $56
Generosity and Inclusivity Open Door (sliding scale)
Students/ Maitripa faculty, staff, TA, student: no charge
All are warmly welcome, regardless of financial contribution
Registrants may place an advance order for Practical Ethics and Profound Emptiness, forthcoming from Wisdom Publications in April 2017. Books will be available for pick up and purchase during the weekend teaching event, prices subject to change. One complimentary copy included with Sponsor level registration.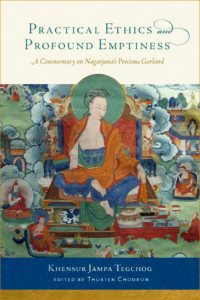 "Though written to a king and composed over eighteen centuries ago, this poetic text by Nagarjuna, The Precious Garland, offers advice like no other for it guides us in leading a wise, compassionate and ethical life even in tumultuous times like our own. For its tenth chapter alone— "Practical Advice for Leaders"—this text is a must-read. A clear, readable, and urgent call to ethical action. This work offers amazing spot-on advice for our times, especially for our leaders and policy-makers."—Jan Willis, author of Dreaming Me: Black, Baptist and Buddhist

Maitripa College offers heartfelt gratitude to
Wisdom Publications
for their generous sponsorship of this event!