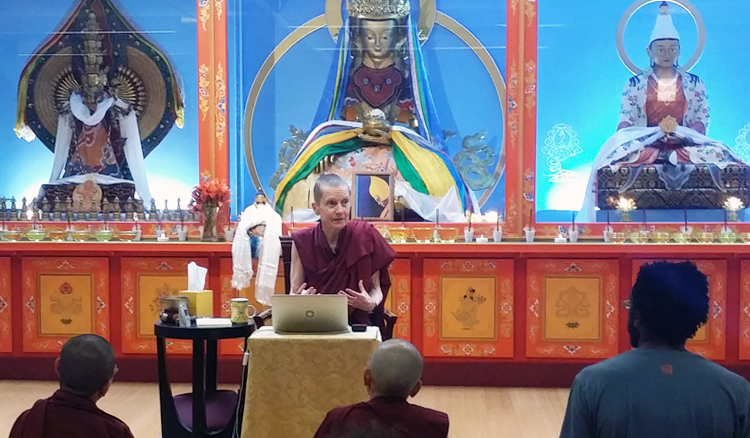 Meditation Instructions on the Stages of the Path to Enlightenment: Public Talk & Retreat with Venerable Sangye Khadro
February 7 @ 7:00 pm

-

February 9 @ 12:00 pm
How to Meditate: Basic Meditation Instructions on the Stages of the Path to Enlightenment with Venerable Sangye Khadro (Public Talk and Retreat)
Please join us for a special non-residential meditation retreat at Maitripa College focusing on how to meditate on the stages of the path to enlightenment, suitable for all levels of practitioner. The weekend retreat will begin with a public session on Friday evening. See the daily schedule below.
Schedule
Friday February 7: 7-8:30 pm ~ Public talk and Meditation
Saturday February 8: 10-12 am and 2-5 pm ~ Retreat
Sunday February 9: 10-12 am ~ Retreat
All parts of this retreat are open to all by donation only, but we do ask that you register if you plan to attend.
Venerable Sangye Khadro
Sangye Khadro (Kathleen McDonald) was born in California, and began studying Buddhism in Dharamsala, India in 1973. The following year she was ordained as a Buddhist nun in Kopan Monastery, Nepal. She has studied with various teachers such as Lama Zopa Rinpoche, Lama Thubten Yeshe, His Holiness the Dalai Lama, Geshe Ngawang Dhargyey and Geshe Jampa Tegchog.
At the request of her teachers Ven Sangye Khadro began teaching in 1979. She has taught in various countries around the world, including being a resident teacher at Amitabha Buddhist Centre, in Singapore, for 11 years. In 1988 Sangye Khadro took the full ordination (bhikshuni) vows. She is the author of two books published by Wisdom Publications, How to Meditate and Awakening the Kind Heart.
She graduated from the 6-year Masters Program in Istituto Lama Tsong Khapa, Italy, in 2013, and has completed two one-year personal retreats. She is currently a faculty member of the Human Spirit Psychoanalytic-Buddhist Training Program in Israel, and was the resident teacher at the Center for Wisdom and Compassion in Copenhagen, Denmark from 2016-2018.
Click here for more about this teacher: http://www.liberationprisonproject.org/news/06_02_08_ven_sangye_khadro_interview.php