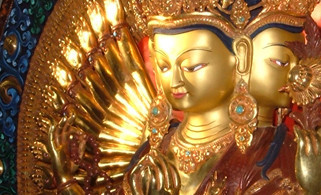 Great Compassion Retreat (Nyung Nay) with Merry Colony
Great Compassion Retreat with Merry Colony
Registration is open now for this intensive 2-day purification retreat that includes fasting, precepts, prostrations, prayers, meditation, mantra recitation, and offerings.
Nyung Nay is a practice based on the deity 1,000 armed Chenrezig, the Buddha of Compassion, and is extremely powerful for healing illness, purifying negative karma and opening the heart to compassion.
The retreat practice includes taking the 24-hour Mahayana precepts, with the addition of complete fasting and silence on the second day. As a retreat experience, this practice is very effective, but also physically demanding. It is important that you are aware of your own health limitations, please see additional information below. Registration closes when maximum capacity is reached, approximately 18 people.
Schedule
Thursday, June 8: Introduction, review of logistics and schedule, 5-6 pm
Friday, June 9 (Saka Dawa) Three sessions 4:30-8:00 am, 9-11:30 am, 3-6 pm, including light meal concluded before noon
Saturday, June 10: Three sessions 4:30-8:00 am, 9-11:30 am, 3-6 pm
Sunday, June 11: One session, 4:00-8:00 am, includes breaking fast and light breakfast.
Accommodations
Maitripa College is a non-residential facility and retreat registration does not include accommodations. You may register without making a payment and indicate that you would like community housing. If other participants volunteer to offer housing, we will connect you, but we cannot guarantee housing with a community member. There are nearby hotels, AirBnB rooms, and bed and breakfasts. Community members may be able to assist with transportation, or you can utilize taxi services (the public transportation may not be running on weekend mornings early enough for the first session).
Registration
Pre-registration is required for participation. All participants will also complete a questionnaire and waiver. The suggested donation for the retreat is $150, plus teacher offering and practice manual if needed. Registration includes all beverages and food, Friday – Sunday morning, as well as special retreat supplies, offerings, and donations to the teacher. According to our Generosity Policy, no one will be turned away for lack of funds, and a sliding scale is available upon request. Retreat sponsors are warmly welcome to offer $216 or more towards sustaining practitioners and retreats at Maitripa College.
Materials
All participants are required to have their own print copy of the Nyuing Na practice. The version which will be used for the retreat is approximately $20 and may be ordered from the FPMT Store through this link. If you face financial or other obstacles to obtaining the text, contact Leigh at program@maitripa.org.
Leader
Merry Colony has felt a special connection to using this practice to generate compassion in our current global situation, and is enthused to share it with others. She served as Director of Education Services at FPMT from 2000-2011, and as Director of several other FPMT projects in the past 30 years. Merry has completed more than 108 Nyung Nay retreats, as well as all nine Gelug preliminary practices, and many other retreats, including some in her cave hermitage at Cherok near Lawudo Gompa in Nepal. For more about Merry, please see this wonderful article in Mandala Magazine (click here).