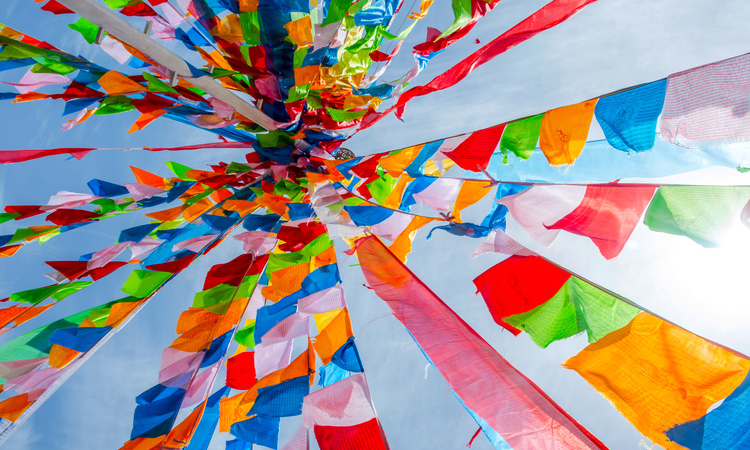 Great Prayer Festival (Monlam Chenmo) February 24-27, 2021
February 24 @ 5:00 pm

-

7:30 pm

|

Recurring Event

(See all)

An event every day that begins at 5:00 pm, repeating until 02/27/2021
February 12, 2021 in the Tibetan calendar marks the start of the Tibetan New Year (Losar), 2148, year of the Metal Ox. In addition to a new year, Losar marks the beginning of the Fifteen Days of Miracles, commemorating two weeks in which Shakyamuni Buddha performed miracles at Sravasti, in northern India, some 2500 years ago. These fifteen days are considered a precious opportunity for practice as the lamas say that any merit, or positive mental energy, we create on these days is multiplied.
To coincide with these powerful days for practice, in 1409 Lama Tsongkhapa established the Great Prayer Festival, or Monlam Chenmo, in Tibet. During the Great Prayer Festival the three great Tibetan monastic universities gather at the Jokhang, the main temple in Lhasa, to practice together. At Maitripa College, we hold our own Great Prayer Festival each year, this year February 24-27, 2021.
We invite you to please join us in as many of these online sessions as you wish, to increase merit, peace, health, happiness, and wellbeing for all. See the schedule below and use the following link to register (required).
To request dedication of prayers during Monlam, please complete the prayer list request form on this page (click here).
See links below and click here for more prayers, dedications, and practice texts.
---
Daily Schedule
Wednesday, February 24, 5:00 PM (Pacific)
Green Tara led by Julie Dreyer
The practices related to the female Buddha Tara remove obstacles and fear and help us accomplish our virtuous aims. Green Tara is especially associated with positive energy of beneficial actions.
Thursday, February 25, 5:00 PM (Pacific)
Vajrasattva Tsog: led by Ven. Lozang Yonten
Vajrasattva practice helps us to cleanse negativity and increase positive potential, useful for cleansing ourselves of past harms and mistakes, relying on those beings who truly have our best interest at heart, and making resolve to do our best in all circumstances. The tsog, or gathered offering feast, is meant to uplift and delight the enlightened beings and ourselves, through rejoicing in practice and the dissolving of mere dualistic delusions of samsara.
>Click here for links to the text for this practice

Friday, February 26, 5:00 PM (Pacific)
Medicine Buddha led by Michael Jolliffe
The practice of Medicine Buddha focuses on the healing of ourselves and others from all types of sicknesses and suffering. Prayers may be dedicated specifically for the wellbeing and healing of loved ones and all sentient beings.
>Click here for text for this practice (PDF)

Saturday, February 27, 5:00 PM (Pacific)
Shakyamuni Buddha Practice, Day of Miracles, Chotrul Duchen, led by Amanda Russel
In this practice, the excellent qualities of the first teacher of the Buddhist path, Shakyamuni, are celebrated, inspiring us to cultivate similar qualities of body, speech, and mind, characterized by skillfulness, wisdom, compassion, loving-kindness, and equanimity.
>Click here for text for this practice (PDF)

---