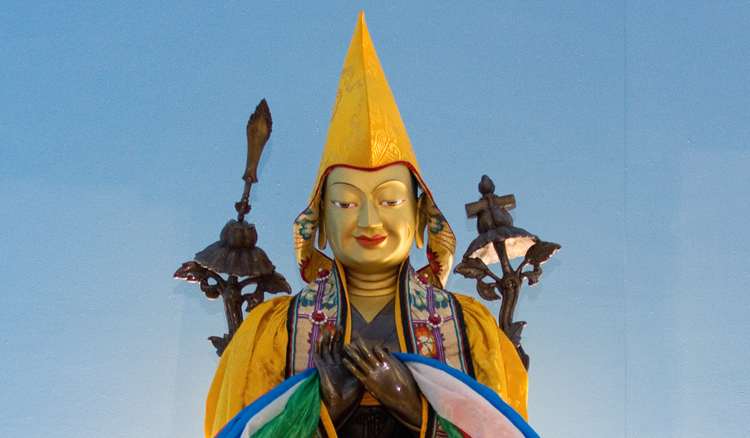 Lama Tsongkhapa Day Celebration 2019
12/21/2019 @ 5:00 pm

-

7:00 pm
Lama Tsongkhapa Day, or Ganden Ngamchoe, is a celebration of the anniversary of Lama Tsongkhapa's parinirvana. It is celebrated on the 25th day of the 10th month on the Tibetan calendar. Traditionally a day of light offerings, there are many other practices one can do to celebrate, and create merit, on this special day.
This year marks the celebration of the 600th anniversary of Lama Tsongkhapa Day. To reflect on the Lamrim teachings we have access to each Sunday, and to give thanks to Lama Tsongkhapa and all of our teachers, everyone is invited to make light offerings and practice Guru Puja together.
Date: Saturday, December 21
Time: 5-7pm

We will also rejoice in the beautiful Lama Tsongkhapa tsa tsa project that has taken place throughout the fall at the request of Yangsi Rinpoche. We would like to thank all those who contributed to the project, and most of all to Maitripa College student and community member, Roberta Raine, and our Environmental Care team including Amanda Russell and Jorge Robles. Together, we have successfully cast 600 tsa tsa, offered them gold, and have permanently installed them in the Maitripa College Jokhang Meditation Hall!
Study:
Learn about Lama Tsongkhapa through a new book entitled Tsongkhapa : A Buddha in the Land of Snows by Thupten Jinpa.

Or read this short biography: https://www.lamayeshe.com/teacher/lama-tsongkhapa

Practice Guru Puja together at Maitripa College and learn more about the practice here.

Create more opportunities for yourself and others to practice together by offering a donation during Maitripa College's Winter Fundraising campaign.

Service: Offer service by volunteering for this event! Send an email to [email protected].