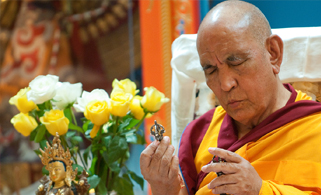 Jangtse Choje Lobsang Tenzin Rinpoche in a Rare Visit (June 22-24) to Bestow Teachings, Empowerments, and Precepts
June 22 @ 7:00 pm

-

June 24 @ 3:00 pm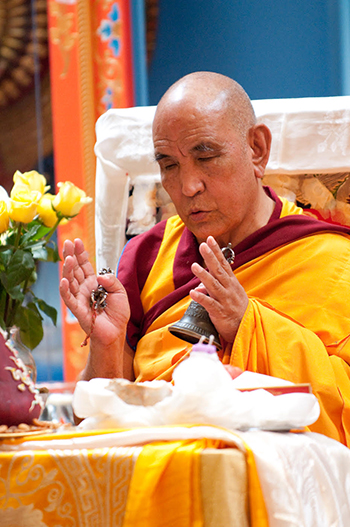 We are thrilled to announce the June 2017 visit of Venerable Jangtse Choje Rinpoche, Losang Tenzin. Jangtse Choje Rinpoche, who will be named Ganden Tripa (Holder of the Throne of Ganden, Head of the Gelug Lineage) this summer, will be offering these very special opportunities at Maitripa College.
All events will take place at Maitripa College and will be offered by donation only. Click on each link provided below to register for that event. NOTE THE CHANGES TO THE SCHEDULE IN RED BELOW:
June 22 (7-9pm): Public Teaching on Wisdom and Compassion NOTE: this teaching will now be offered by Yangsi Rinpoche, President of Maitripa College A public talk on the two primary practices of the Tibetan Buddhist tradition
>Open to all; by donation, and please click here to register and reserve your space<
June 23 (morning): Mahayana Precepts (4:30-6:30 am) NOTE: this is a change in time (originally scheduled to begin at 5:30 am)
>Email education@maitripa.org to register<
June 23 (7pm): Refuge NOTE: this is a change in date (originally scheduled for June 22) Refuge will be offered on June 23 at Maitripa College. You may still email education@maitripa.org if you wish to take refuge (first-timers only). You must send an email if you intend to take refuge that evening!
June 23 (7-9pm): Introduction to the Completion Stage of Highest Yoga Tantra
The Tibetan Buddhist tradition is renowned for its historic and contemporary dedication to the practice of the tantric path. Join us to learn about the highest level of tantric practice in the tradition with Jangtse Choje Rinpoche, the former Abbott of Gyume Tantric College and a living tantric master.
>Open to all; by donation, and please click here to register and reserve your space<
June 24 (1pm): Vajrasattva Empowerment
The Vajrasattva Empowerment can be taken as a blessing or as an empowerment to practice. If you take it as an empowerment, you commit to doing 21 recitations of the long Vajrasattva mantra daily.
>Refuge is required to receive the empowerment, but all may attend as a blessing; by donation, and please click here to reserve your space<
Volunteer Opportunities
The visit of this highly esteemed Tibetan master will entail many teaching sessions and support opportunities prior to and on event days. There will be needs for shopping, ritual set up, registration, open and closing, preparation of texts, flowers and offerings, etc. If you are interested in being on this team, please CLICK HERE TO sign up and we will confirm a schedule as soon as possible. To volunteer for any of these events, please click here.
Jangtse Choje Lobsang Tenzin Rinpoche, Successor to the Seat of Ganden Tripa
Born in Tibet in 1934, Rinpoche was ordained as a monk at the age of seven. He entered Sera Jey monastery at seventeen and obtained his Geshe Lharampa degree in 1979. Following this, he entered Gyume Tantric University and two years later became Master of Discipline. In 1985 His Holiness the Dalai Lama appointed him abbot of Gyume Tantric Monastery, a position he held for 6 years. Since then he has taught extensively in India and the West. In 2010 he was appointed to the position of Jangtse Choje, Successor to the Seat of Ganden Tripa.