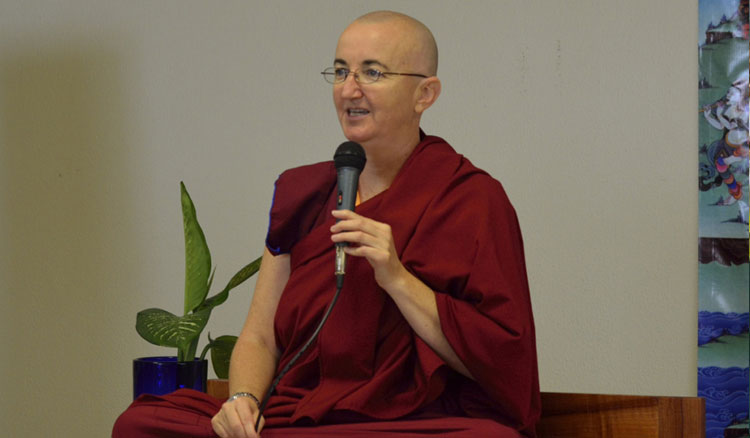 Friday Night Faculty Talk with Damchö Diana Finnegan, PhD ~ "Mother, Daughter, Sex Worker, Nun: Transgressing and Transforming Gender Roles in Buddhist Narratives"
09/13/2019 @ 7:00 pm

-

8:30 pm
Mother, Daughter, Sex Worker, Nun: Transgressing and Transforming Gender Roles in Buddhist Narratives
Friday Night Faculty Talk with Damchö Diana Finnegan, PhD
Among the Buddha's most prominent female disciples were sex workers, mothers, and, of course, the nuns who formed the female monastic order. Narratives of the lives of these earliest Buddhist women show them struggling to emerge, with varying degrees of success and failure, from the places in which a patriarchic society sought to keep them.
This talk explores ways in which the limitations placed on women in early Buddhist communities were challenged or transgressed, and ways they were ultimately reinforced. We will ask what these narratives can teach today's Buddhist communities as we seek to identify and liberate ourselves from our own notions of gender that restrict women's spiritual potential. Open to all; donation only.
Damchö Diana Finnegan, PhD
After a career as a journalist based in New York and Hong Kong, Damchö Diana Finnegan ordained as a Buddhist nun in 1999. In 2009, she received her PhD from the University of Wisconsin-Madison, with a thesis on gender and ethics in Sanskrit and Tibetan narratives about Buddha's direct female disciples in the Mūlasarvāstivāda Vinaya. After completing her dissertation she worked closely with the 17th Gyalwang Karmapa, Ogyen Trinley Dorje, serving as co-editor on various publications; and in 2007, she co-founded Dharmadatta Nuns' Community (Comunidad Dharmadatta), a community of Spanish-speaking Buddhist nuns.
Damchö continues to participate in academic circles, presenting at conferences, editing books, and engaging in various research projects. She has served as a board member of Maitripa College since its founding in 2005.
>more
Friday Night Faculty Talks at Maitripa College
A few Fridays each term beginning in Fall 2019, Maitripa College will offer Faculty Friday Night Talks; public talks at Maitripa College by some of our amazing guest and resident faculty.
These events will be free and open to the public; topics will be based on the current work of the speaker, and all will be invited to attend. Each evening will include a talk, a time for question and answer, and a short time for socializing/mingling. Please join us for this event and keep an eye out for announcements of additional Friday Night Faculty Talk guests for 2019!