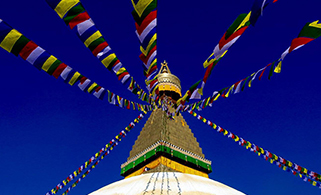 Tuesdays & Thursdays July 11-29: Discovering Buddhism: Wisdom of Emptiness with Daryl Dunigan, MA
07/11/2017 @ 7:00 pm

-

9:00 pm
The realization of emptiness is crucial for the attainment of liberation and enlightenment. Moreover, enhancing our ability to bring contemplation of emptiness into daily life brings immediate benefits. Learn how to develop calm abiding meditation and different methods to use in meditation on emptiness. Practice accumulation of merit and purification of obstacles – indispensable for generating realizations within the mind.
Topics may include: clarifying misunderstandings about emptiness, dependent arising, the main philosophic presentations of emptiness in the Geluk school of Tibetan Buddhism, and the place of emptiness practices in the Buddhist path.
Discovering Buddhism is open to all, regardless of prior background or experience with Buddhist study or practice, and is completely free to you. Participants are welcome to practice generosity in the form of donating volunteer time to support this program according to their capacity. At the end of the program, we offer you an opportunity to reflect on any benefit you received, and then Pay It Forward, making a financial contribution that enables us to offer this program freely in the future for others. Maitripa College wants to break down financial, educational, racial, gender, or other barriers to dharma; please let us know how we can make your participation a joyful, welcoming experience.
Discovering Buddhism: Wisdom of Emptiness with Daryl Dunigan, MA
Tuesdays & Thursdays: July 11-27, 7-9pm (come to all nights or join at any time)
Saturday: July 29 Retreat Day
Discovering Buddhism program modules are designed by the FPMT Education Department, and taught by FPMT Registered Teachers who are graduates of Maitripa College and supported by Yangsi Rinpoche to teach in this manner.
Participants are requested to register in advance to receive free reading materials and communications from the teacher.