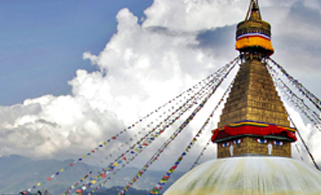 Tuesdays & Thursdays August 1-17: Discovering Buddhism: Introduction to Tantra with Carl Jensen, MDiv
08/01/2017 @ 7:00 pm

-

9:00 pm
In this module of Discovering Buddhism, learn what tantra is, how it works, and why it is a powerful form of practice. Get a broad overview of the four classes of tantra and learn to practice simple methods. Discussion will also include learning to integrate tantra with lam-rim meditation.
Discovering Buddhism is open to all, regardless of prior background or experience with Buddhist study or practice, and is completely free to you. Participants are welcome to practice generosity in the form of donating volunteer time to support this program according to their capacity. At the end of the program, we offer you an opportunity to reflect on any benefit you received, and then Pay It Forward, making a financial contribution that enables us to offer this program freely in the future for others. Maitripa College wants to break down financial, educational, racial, gender, or other barriers to dharma; please let us know how we can make your participation a joyful, welcoming experience.
Discovering Buddhism: Introduction to Tantra, with Carl Jensen, MDiv
Tuesdays & Thursdays: August 1 – 17, 7-9pm
Saturday: August 19, Retreat Day (retreat day is restricted to those who have already attended classes in this module)
Discovering Buddhism program modules are designed by the FPMT Education Department, and taught by FPMT Registered Teachers who are graduates of Maitripa College and supported by Yangsi Rinpoche to teach in this manner.
Participants are requested to register in advance to receive free reading materials and communications from the teacher. Click on the following:
Volunteer for this Event
Volunteering to help at Dharma and Community programs at Maitripa College is a great way to get involved, make friends, and enjoy the opportunity to practice generosity and warm-heartedness. Click on the Volunteer Sign Up button, and training and details will be provided as needed, or contact us at program@maitripa.org with your questions. Thank you!