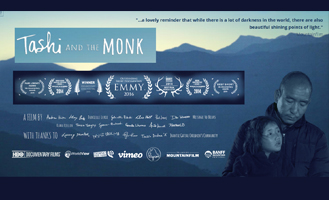 Emmy-award Winning Film Screening: Tashi and the Monk followed by a Conversation with Director Andrew Hinton
May 11 @ 7:00 pm

-

9:00 pm
The Mindfulness & Compassion Initiative at Maitripa College presents…
Emmy-award winning film: Tashi and the Monk screening & discussion with Director Andrew Hinton
Join us for a screening of the Emmy-award winning documentary Tashi and the Monk (2014), followed by conversation with filmmaker Andrew Hinton on Thursday, May 11, at 7pm. The film won the 2016 Emmy for Outstanding Short Documentary, and 25 additional awards since its release in 2014, including from the International Documentary Association and international film festivals from juries and audiences that recognized the Directors and its social impact.
On a remote mountaintop a brave social experiment is taking place. Lobsang has channeled his own unhappy childhood into an opportunity for other 'uninvited guests of the universe' to avoid a similar fate. But can his pioneering safehaven's love and compassion transform feisty Tashi's alienation and tantrums into a capacity to make her first real friend and begin to heal?
Thursday, May 11
7:00 pm
open to all; donation only
About the Film
A former monk trained in a Tibetan Buddhist monastery overseen by the Dalai Lama, Lobsong Phuntsok left behind a life as a spiritual teacher in the United States to create Jhamtse Gatsal, the Garden of Love and Compassion, in 2006. Lobsang attempts to heal his own dark childhood by adopting 85 unwanted, neglected, and abused children and growing them as a family in the foothills of the Himalayas. The film follows Lobsang facing tough choices to realize his commitment to rescuing children and Jhamtse's newest arrival, a wild and troubled 5-year-old girl named Tashi. Through immersion in their daily lives, the film shows how kindness and empathy can transform lives, spotlighting one man's altruistic vision and the journey of one troubled child who, with the help of a supportive community, are able to overcome troubled pasts and start anew. Through the power of unflinching belief in each child's potential unfolds a community's active protection, compassion, and loving concern for others' wellbeing, amid daily bursts of exuberant laughter and the play of healthy childhood.
About the Director
Andrew Hinton is an award-winning documentary filmmaker who has lived and produced films in London and New York City. He was drawn to India by social change initiatives and the desire to share inspiring stories, set amid the chaos and magic of contemporary life there. A contributor to the Brooklyn Film Collective, the global oneness project, and Mountainfilm, his "work showcases people and stories that offer hopeful solutions in the face of adversity."
More: http://tashiandthemonk.com/ | http://jhamtsegatsal.org/

Praise for the Film
"As uplifting a film as you'll ever see." – The Week
"Compassion in action." – Banff Mountain Film Festival
"Charming and thoughtful." – Forbes
"A lovely reminder that amongst the darkness in the world, there are also beautiful shining points of light." – Mountainfilm
"Mountains can be brutal places to live. Perhaps this goes some way towards explaining how Tibetan Buddhism has developed such a keen sense of compassion for all beings. Many westerners may have heard of these profound ideals, but in this film we are able to witness compassion in action. The experience is both surprising and humbling." – Jury at Banff Mountain Film Festival on awarding Tashi and the Monk Best Film on Mountain Culture