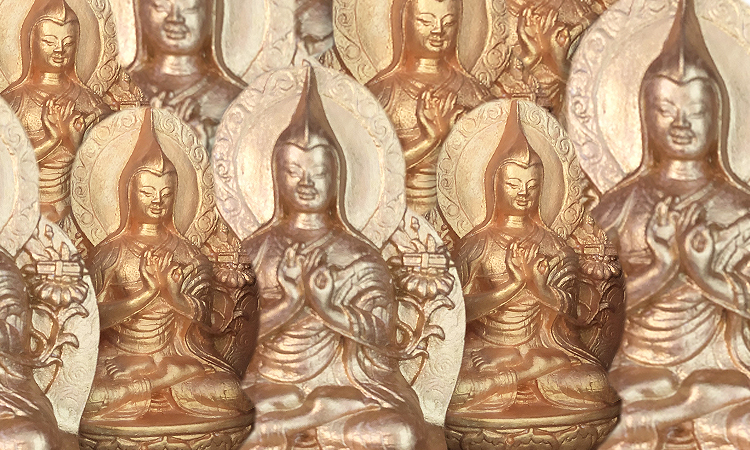 600 Tsa Tsa Project Session
11/02/2019 @ 12:00 pm

-

3:00 pm
Please join us in honoring the 600th anniversary of the birth, passing, and parinirvana of Lama Tsongkhapa, the founder of the Gelug lineage of Tibetan Buddhism. Yangsi Rinpoche's vision is to have the Maitripa College community create 600 tsa tsa (replicas of images of Buddhist figures and deities) of Lama Tsongkhapa in preparation for a celebration of this special day on December 21st.
This unique project will require the help and participation of many hands! We will need your help with:
casting the 600 tsa tsas (see below)
hand-painting the 600 tsa tsas in gold (see below)
designing the two installations (details to follow)
installing the 600 tsa tsas in the Jokhang Meditation Hall and elsewhere at Maitripa College
These installations will be permanent features of the Maitripa College environment and will provide countless opportunities for students and visitors to create merit through making, painting, and paying respect to these holy objects. No experience is necessary to take part in casting or painting the 600 tsa tsas, and training will be provided.
If you have a background in art, woodworking, design or installation, please reach out to us to help with the design and installation phases of the project. We hope that the entire community will benefit from this special project.
The Casting Sessions
The tsa tsa casting sessions will be led by Roberta Raine, former director of the Tsa Tsa Studio/Center for Tibetan Sacred Art, an FPMT center previously located in San Francisco. Roberta will lead students in tsa tsa practice, a set of prayers and mantras done as part of the tsa tsa casting process, according to the instructions of Lama Zopa Rinpoche.
Tsa tsa casting sessions will be held on the following days:
Saturday, Oct. 19, 12-3
Friday, Oct. 25, 12-3
Saturday, Nov. 2, 12-3
Friday, Nov. 8, 12-3
Friday, Nov. 15, 12-3
Friday, Nov. 22, 12-3
The maximum number of participants for each casting session is seven, so please register by emailing Roberta Raine at [email protected] here to reserve your place.
Painting the Tsa Tsas
Please email Roberta Raine at [email protected] if you can help paint the tsa tsas (click here). Training and materials will be provided and sessions/timing will vary depending on your availability. There will be much to do! Thank you!