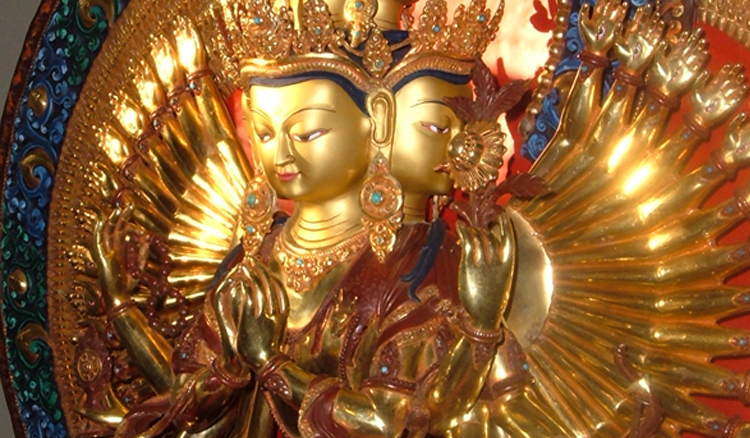 Nyung Nä Retreat with Venerable Gyaltan Yarphel
Nyung Nä Retreat with Venerable Gyaltan Yarphel
August 2-5, 2019
All Are Welcome
Join us for the Nyung Nä Compassion Retreat for Purification and Accumulation of Merit on the auspicious Buddha Date of Chokhor Duchen (Commemorating the First Turning of the Wheel of Dharma when Buddha Shakyamuni taught his first disciples) with Venerable Gyaltan Yarphel in August!
Nyung Nay is a practice based on the deity 1,000 armed Chenrezig, the Buddha of Compassion, and is extremely powerful for healing illness, purifying negative karma, and opening the heart to compassion.
Registration is open now for this intensive short retreat that includes fasting, precepts, prostrations, prayers, meditation, mantra recitation, and offerings. The retreat practice includes taking the 24-hour Mahayana precepts, with the addition of complete fasting and silence on the second day. As a retreat experience, this practice is very effective, but also physically demanding. It is important that you are aware of your own health limitations. Please see additional information below. Registration is required in advance, and closes when maximum capacity is reached, approximately 18 people.
Schedule
Friday, August 2:
Mandatory Orientation Session, 6-7:30pm: review of retreat practice, requirements, logistics and schedule, signing required waivers, Q&A
Saturday, August 3:
Three sessions: 4:30-8:00am, 9-11:30am, 3-6pm, includes one mid-day meal
Sunday, August 4 (Chokhor Duchen):
Three sessions 4:30-8:00 am, 9-11:30 am, 3-6 pm
Monday, August 5:
One session, 4:00-8:00 am, includes breaking the fast and a light breakfast and tsog
Note about Mandatory Orientation Session
The Evening Orientation session is mandatory. We cover important logistical information, health care, share contact information, and answer questions. It establishes calm and confident conditions for retreat practice to take care of these details prior to the start of the retreat, which begins early the following morning. Please plan to spend the evening quietly. Prior to the retreat weekend, you may wish to wean yourself off of caffeine, stay hydrated, and optimize nutrition intake.
Accommodations
Maitripa College is a non-residential facility and retreat registration does not include accommodations. If your participation is contingent on housing, you may register without making a payment in advance and indicate that you would like community housing. If other participants volunteer to offer housing, we will connect you, but we cannot guarantee housing with a community member. There are nearby hotels, AirBnB rooms, and bed and breakfasts in the SE Portland neighborhoods of Ladds Addition (closest) and inner Hawthorne, Buckman (north of us), and Hosford-Abernathy (south of us). Community members may be able to assist with transportation, or you can utilize taxi services (the public transportation may not be running on weekend mornings early enough for the first session).
Registration
Pre-registration is required for participation. All participants will also complete a questionnaire and waiver at the mandatory orientation session. The suggested donation for the retreat is $150, plus teacher offering and purchasing your own copy of the practice manual if do not already have one (links to the practice manual below). Registration includes all beverages and food, as well as provided retreat supplies. According to our Generosity Policy, a sliding scale is available. Retreat sponsors are warmly welcome to offer $216 or more towards sustaining practitioners and retreats at Maitripa College (see registration form).
Materials
All participants are required to have their own print copy of the Nyung Na practice. The version which will be used for the retreat should be ordered from the FPMT Store, and you may select the delivery option of pick up at Maitripa College or have it mailed to you in advance. *Please note! The FPMT Store has limited print copies remaining in inventory! Once these are sold, the only option will be the digital and PDF versions.
Please choose one of the following options in time to receive your order before the retreat.
>Order the spiral bound print book ($14.99):
https://shop.fpmt.org/Nyung-Na_p_129.html
>Order the eBook and PDF ($9.99; bring your own print out to retreat):
https://shop.fpmt.org/Nyung-Na-eBook-PDF_p_2481.html
You may also enjoy learning more about the practice from this resource:
>Abiding in the Retreat: A Nyung Na Commentary eBook
https://shop.fpmt.org/Abiding-in-the-Retreat-A-Nyung-Na-Commentary-eBook_p_3031.html
If you face financial or other obstacles to obtaining the text, contact Leigh at [email protected] We will provide you a free print out, but please give us advance notice.
Leader
Venerable Gyaltan Yarphel (John Jackson) has been a student of Lama Yeshe and Lama Zopa Rinpoche since 1977. Venerable Yarphel was one of the founding members of Vajrapani Institute, and later fulfilled the responsibility for the establishment of Land of Calm Abiding. He has been ordained as a gelong since 2002 and have been residing at Lama Zopa Rinpoche's retreat place, Buddha Amitabha Pure Land since 2003.
Venerable Yarphel met his root teacher, Venerable Geshe Tsultim Gyeltsen, in 1976, and was his attendant in the months prior to his passing in 2009 (read Ven. Yarphel's inspiring account of his teacher, the "tong-len geshe", and the signs of his spiritual attainments here). Ven. Yarphel began a "lifelong retreat" in 2008, with "interruptions" from time to time to support various projects for Lama Zopa Rinpoche, including helping to build the stupa in Tonasket under direction from Lama Zopa and Yangsi Rinpoche.
Overall, he says, "I have been able to accumulate about seven years of solitary retreat focusing on the Lam Rim. This past year I was honored to teach the November Course at Kopan and am now back into my solitude."