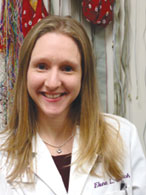 ELENA GOODRICH is a cognitive neuroscience researcher and scholar. She met Yangsi Rinpoche at Deer Park Buddhist Center in Madison, Wisconsin. After completing a BA in Religious Studies at Grinnell College, she moved to Portland to begin taking classes at Maitripa. She obtained a BA in Psychology from Portland State University and then began working in a Cognitive Neuroscience Lab at Oregon Health and Science University.
Elena eventually entered Maitripa's Master of Divinity degree program full-time and says this is when her personal spiritual practice really deepened. Elena graduated from Maitripa in 2013 and has continued working as a research assistant in a lab that studies the effects of meditation on the mind and body. She helps design, implement and publish research studies about teaching secular mindfulness meditation to various populations, including combat veterans with PTSD, chronically stressed older adults and adults with severe speech and physical impairments.
2016 UPDATE FROM ELENA: I continue to work in a cognitive neuroscience lab at Oregon Health & Science University that studies the effects of various forms of complementary and alternative medicine. This past year, I co-authored three peer-reviewed journal articles: "Event-related Potential Correlates of Mindfulness Meditation Competence" in Neuroscience, "Internet Mindfulness Meditation for Cognition and Mood in Older Adults: A Pilot Study" in Alternative Therapies in Health and Medicine, and "Mechanistic Pathways of Mindfulness Meditation in Combat Veterans with Posttraumatic Stress Disorder" in Journal of Clinical Psychology. Currently, I am co-authoring a paper on meditation with fellow alumnae Cheryl Wright, PhD, LAc, MA.
A really huge positive aspect for me was the community. Having that support of like-minded individuals, who have the same goals…this 'Dharma family' has become one of the biggest gifts. I got a well-rounded education in Buddhism studying the three pillars of scholarship, meditation and service, and most importantly, I developed a stronger connection to my teacher Yangsi Rinpoche and his pure lineage…Maitripa College has empowered me personally and professionally more than I could have possibly imagined.